ContemPRO
Roll Top Laptop Backpack, up to 15.6-Inch - Navy
The preppy, casual look of the ContemPRO Roll Top Laptop Backpack is the bag to choose when you want to add some distinction to your office look. The extra large opening at the top of the bag lets you pack larger or bulkier items with ease, while the roll top keeps things neat and professional looking.
As low as
$59.99
Regular Price
$99.99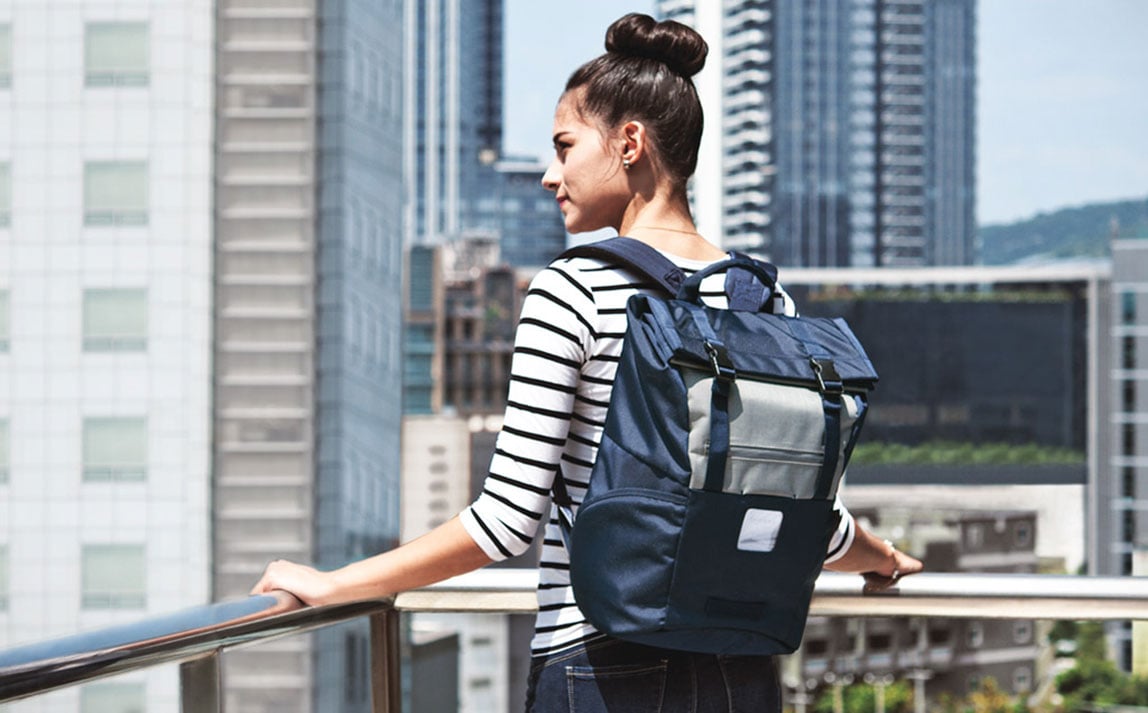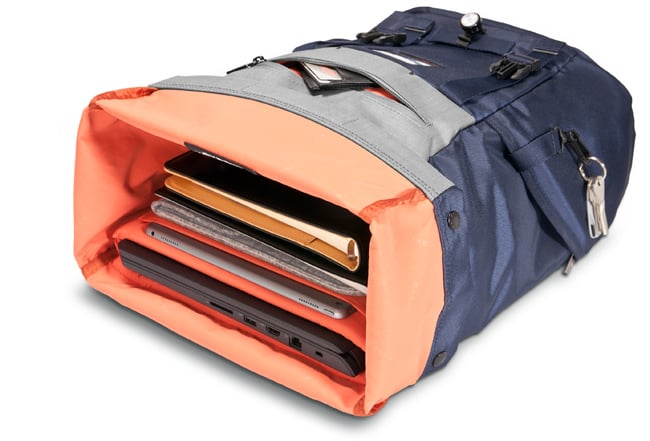 The Roll Top Laptop Backpack
The Roll Top Laptop Backpack from EVERKI is a stylish re-design of a classic favorite with a professional twist. But don't let its preppy and relaxed look fool you; this bag is ready for the office with dedicated spots for both a laptop and a tablet. And like all EVERKI bags, we've designed this bag so you can have just what you need within reach, like the multi-functioning side pockets which securely hold your water bottle, and the quick-access pocket on the front for your phone and anything else you need easy access to. You'll also find multiple slots, pockets and pouches to keep things organized and within reach. Add some interest to your office look.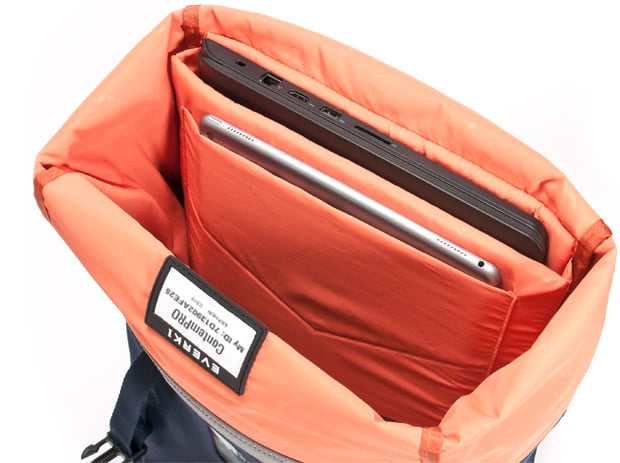 Dedicated laptop and tablet pockets
If you find yourself toting both a laptop and a tablet when you commute to the office every day, the Roll Top Laptop Backpack may be just for you. We engineered the main compartment with a dedicated laptop pocket to fit up to a 15.6-inch laptop, along with a special slot that is big enough to hold today's larger tablets. The laptop pocket is padded on the bottom, front and back to safely secure your devices from bumps and knocks – and the tablet pocket is also padded to prevent scratches. Stow your electronics comfortably and confidently in the ContemPRO Roll Top Laptop Backpack.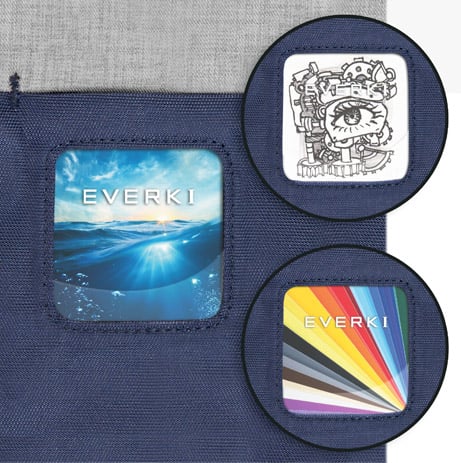 Personalizable window
In every area of your life, you want an outlet of self-expression, even in your business bag; so we crafted the ContemPRO series just for that. Like every bag in the ContemPRO series, the Roll Top Laptop Backpack has a personalizable window on the front of the bag that can be customized. The bag comes with a set of images, so choose the image you like or design your own to match your personal style. The window on the front of the bag helps you do what you always do – stand out in a crowd.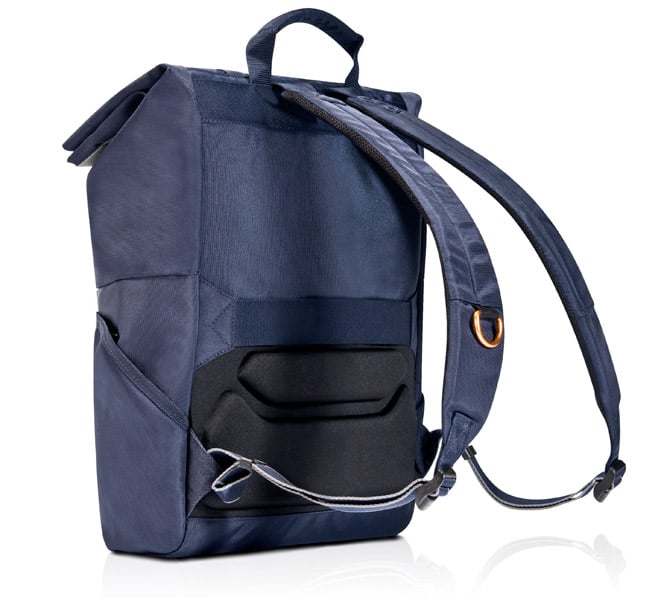 Comfortable carrying
The Roll Top Laptop Backpack really packs a punch. The large opening at the top of the bag allows you to pack bigger and more cumbersome items in the backpack than would be possible to carry in a traditional bag; while the cavernous main compartment is large enough to hold all that you'll need for the office or a weekend trip. And because your shoulders carry the brunt of the weight, we engineered the backpack with padded and reactive shoulder straps that conform to the owner's shoulders, and a molded back panel for increased circulation – so even if your pack is full, you can still carry comfortably.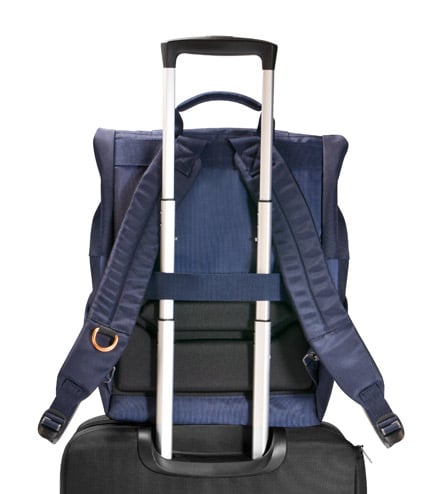 Trolley handle pass-through
When you're traveling with many bags, the trolley handle pass-through on the back of the Roll Top Laptop Backpack allows you to double your efforts. Simply slip your backpack onto the handle of your roller luggage and you're ready to wheel through the airport.
Padded carry handle
Sometimes it's just not practical to carry your backpack on your back. The Roll Top Laptop Backpack is designed with a padded carry handle; now it's easy and comfortable to carry your bag in one hand.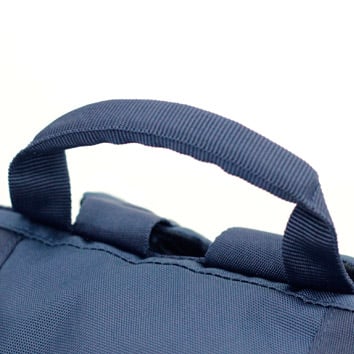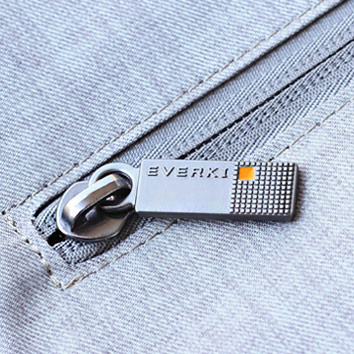 Durable zippers and metal pulls
Have you ever broken a zipper on your favorite bag? We have. That's why we designed the Roll Top Laptop Backpack using durable zippers and metal pulls. So your favorite bag can remain your favorite bag.
High-contrast lining
All EVERKI interiors are stylish, high-contrast orange because we know how frustrating it is to mistakenly leave a compartment unzipped, and how difficult it is to organize against a black background. Savvy and Stylish.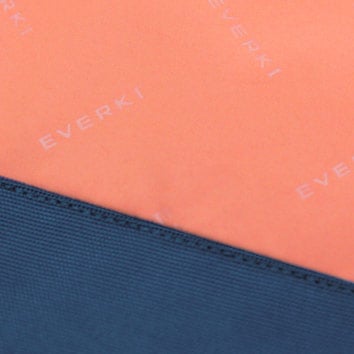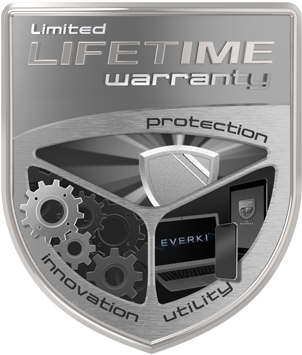 Peace of mind
EVERKI makes products of value because we value our relationships. Every product EVERKI makes comes with our Limited Lifetime Warranty which covers manufacturing defects over the entire life of the product. EVERKI. We give you peace of mind.
Dedicated pockets for 15.6-inch laptop and iPad/Pro/Kindle/tablet
Personalizable window
Spacious and well-organized
Multifunctional side pockets with water bottle loop
Comfortable and cooling molded back panel
Trolley handle pass-through
Specifications

| | |
| --- | --- |
| Model | EKP161N |
| UPC | |
| Bag Weight | lbs |
Customer Reviews
Most Helpful Customer Reviews
Perfect for me

I've tried at least 10 different computer backpacks over the years and this one is perfect for me, hands down the best. A key feature is the straps are close together at the top of the back so they don't fall off your shoulders. It is lightweight, durable, and the roll-top is faster to get in and out of than I thought it would be. I chose the blue one just to be a little different. I use my 16" MacBook, iPad Pro, charger, cables, and there is still room for change of clothes. The padded pockets provide enough protection. I really love this backpack.

Thank you for your feedback!

You already voted

Sorry, we failed to record your vote. Please try again

As someone who totes on her back bags in differen...

As someone who totes on her back bags in different shapes and sizes for 25 years, day in and day out, I know how important is that the bag in question has to be able to stand almost anything bar nuclear explosion and still protect its contents.

I've gone on a hunt for a new one three weeks ago because my much loved, used and abused one finally filled in for a divorce, citing tearing apart at the seams, inner lining falling off thus not protecting the contents I've mercilessly upended into it to the extremes more often than not (heavy books - hey, I was a student at that time, alright? - sharp edges, bulky clothes, more books and fragile electronics that miraculously survived their little trips to wherever I needed them.). The old one served me faithfully for long ten years, so yeah, retirement wasn't an option, but inevitable certainty. It was almost a divine miracle that all the zips managed to remain in one piece still!

Thus began two long weeks of searching the shops, both online and offline ones, and I don't know who was more frustrated - the clerks because they had to deal with my (unreasonable?) demands or I, who was at times mentally weeping at the state of the so-called bags worth of their - at times - exorbitant - prices. They always lacked something. Sometimes it was a safe pocket. Sometimes they were not water-proof. Sometimes it was that the side where a person's back touches the bag, was not reinforced. And to my horror, no reinforced bottoms! Or they had useful bits and bobs I would love to have, but they were attached to the whole which wasn't, even if I lowered my demands, acceptable to me.

My attention was at first grabbed by another bag of yours - Everki Titan. I have to admit, my jaw just about dropped when I saw that behemoth, and when I saw just what that bag offered to the user, it was set as a measure stick for all the bags. So no wonder that many, many bags after it failed any comparations henceforth!

However, the only beef I had with Titan was, that it was HUGE, and my height is only 5.4 feet. And seeing your promotional videos - thank you for including height of the models, very helpful, by the way- was that I. Was. A. Dwarf. Well. At least comparing to that Titan bag. Yeah, apt name. Very apt.

Let's flash-forward to the Day B - so, Day of Buying. At first, the ContemPRO wasn't in my sight - I was used to the zipped models, so I looked at the zipped models. End of the story. But the zipped models had one big fail, and that was they needed - not necessarily so, but still - a rain cover. (I am a bit sad you don't include it with all the bags, really.). But then, something clicked, and I saw it in a new light. It was already waterproof, the design was a little bit unusual and yes, I would have to get used to a totally new layout (where the heck are my pens now!?), but why not?

I admit I was more than a bit nervous (didn't help that delivery took its sweet time because of Mr. Easter Bunny), especially because I had no chance to test is live. It was a Hail Mary at its finest, no test drive/wear before taking it home, nothing. Yesterday, I've been in a sports shop and I saw a bag that completed almost all the requirements for a little less than half of the price tag of CONTEMPro bag. But I know the quality has its own perks, so I was confident in my buy.

Today, the day I've finally got the bag home. And all I can say, love. Love at the first sight, touch, and my back definitely sang me praises when I transferred all the bits and bobs out of my recently divorced bag to my new Everki one. (For that matter, the divorced bag sang me praises, too. If only because I've relieved it of it's constant burden.... oh, for, like, forever.). I was afraid that the bag would look or feel bulky on my back, but it sat here, light and easy as you please.

The bag has everything I wished for in a bag that will be with me from here on, day in and day out, for the longest possible time (Or at least until this one too, serves me divorce papers. But hopefully not for a long, long long time.).

Yes, the price was higher than I expected to shell out for a new bag, but considering that you always deliver quality products, tailored to the needs of a regular everyday bag-toter (like me!), it's perfect, and I promise to like it, love it and hoard it away from my brother who will undoubtedly want it for his own.

(He will just have to get over it and buy his own. This one is mine!)

If I ever want another bag for my needs, I now know where to look.

Thank you. Really.



Thank you for your feedback!

You already voted

Sorry, we failed to record your vote. Please try again

I bought this backpack when I received a new lapto...

I bought this backpack when I received a new laptop from work. I've been living with it for about 2 weeks on my commute and really like it.

I wasn't sure I'd like the roll-top style but it works well for me and there is plenty of storage. It's very comfortable even when fully loaded.

It seems very well constructed, very happy with the purchase.

Thank you for your feedback!

You already voted

Sorry, we failed to record your vote. Please try again
Questions And Answers
Can't find your Answer?