Venue
Premium iPad/Kindle/Tablet RFID Mini Messenger
You'll find spaces for what you need during flight or your trip to the corner café. With its intuitive layout and black on black leather accents, it's sure to become your favorite essentials bag.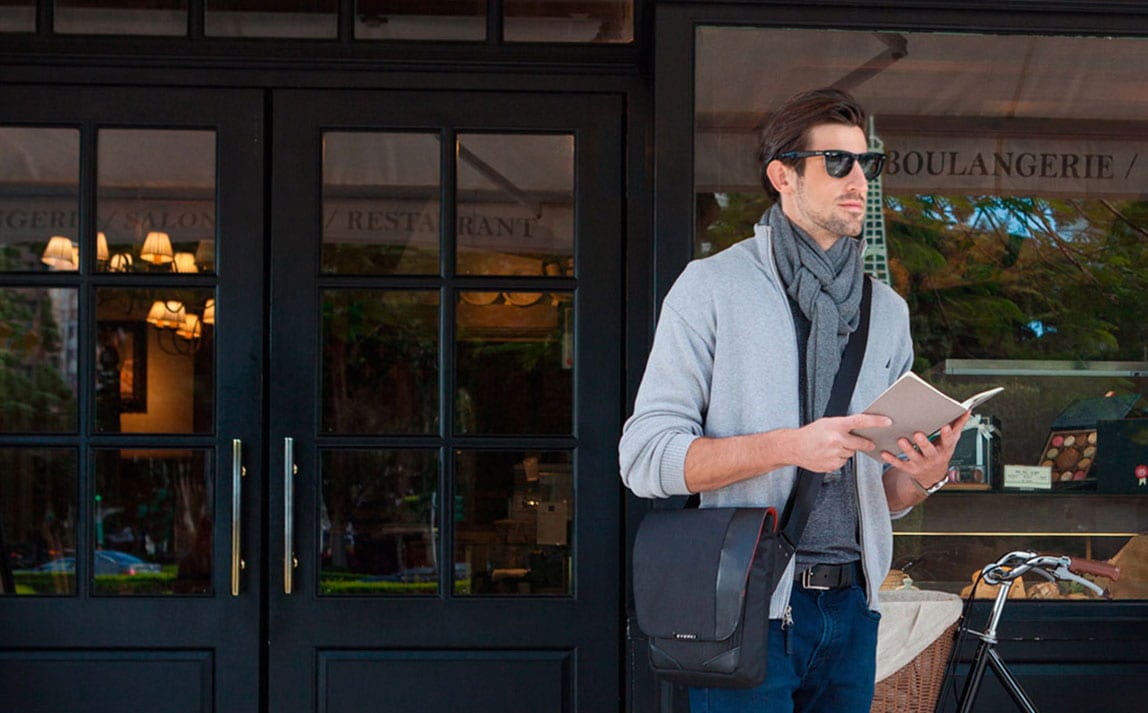 Simplicity is essential
The Venue Mini Messenger. Knowing you're always mobile, we designed this bag to transition seamlessly from travel to meeting or from day bag to evening outing. The usability of the cross-body design will quickly make the Venue your favorite essentials bag. Your tablet, notepad, passport, travel documents and phone can all be stowed away securely in EVERKI's signature high contrast orange interior and it's RFID protected to secure your personal data. The clean, modern design is the perfect partner for your international flight or your urban outing. It's constructed using high performance ballistic nylon to resist wear, water, dirt and damage and accentuated with premium leather accents. The black on black makes its aesthetics as slick as its performance and the intuitive design makes it smart for an everyday bag. The Venue – compact in size, robust in style.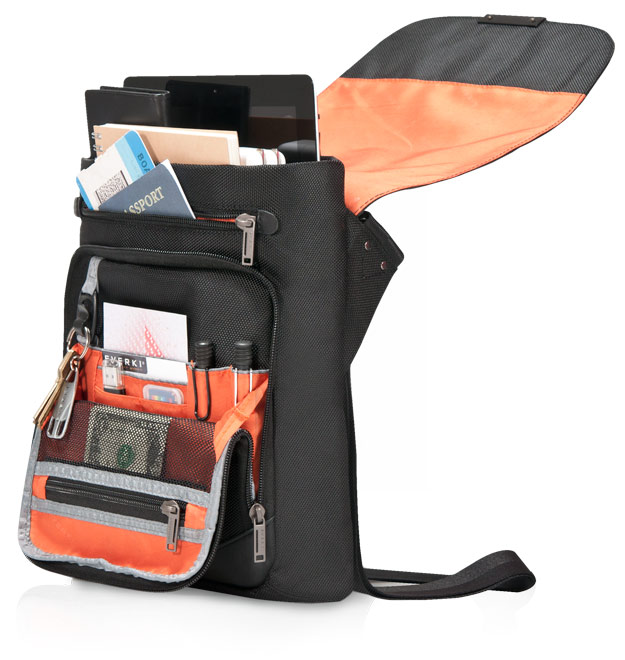 EVERKI's intuitive design
We've engineered the Venue for optimal user interface. Store your iPad, Kindle or other tablet in the felt-lined and padded pocket. We've made the top flap generously proportioned for easy access, and multiple interior spaces allow you to find everything without any fumbling around. Protect your passport and credit cards in the RFID pocket, while the mesh pocket is perfect for your wallet. There are small slots for earbuds, pens, a calculator, notepad and other peripherals and a designated hook for your keys. Your phone is easily accessible in its own special compartment, right at the back of the bag so you can quickly retrieve it without opening up the main compartment. The extra wide shoulder strap is engineered at an angle to keep the bag close to your body. Stylish organization for on-the-go functionality.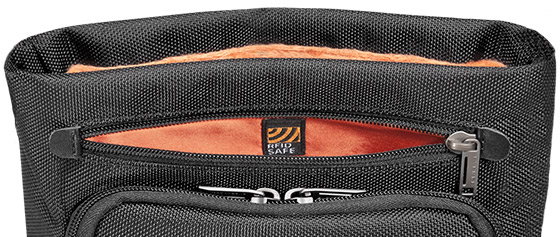 RFID protection
Most contemporary passports, credit cards and smart cards come equipped with an RFID micro-chip. Carrying them may make you vulnerable to illegal remote scans of the personal information stored on them. Identity theft is a serious concern. So we designed the Venue to protect the sensitive data on your passport and credit cards with an RFID-protected pocket. Simply slip your passport, credit cards or other forms of identification into the secure pocket, and your personal and banking information is safe from illegal RFID scans.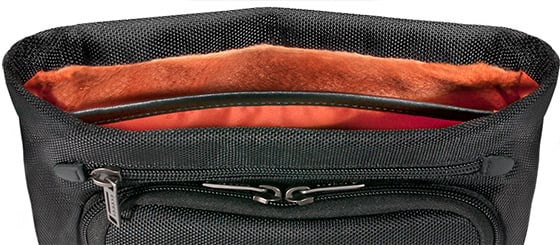 Felt-lined and extra padded tablet pocket
When you're traveling or sight-seeing, your bag can get knocked and bumped. That's why we constructed the Venue with multiple layers of protection in the tablet compartment. Starting with EVERKI's signature, super-soft, high contrast orange felt in the interior of the tablet pocket to protect against scratches and nicks. The bottom of the compartment has multiple layers of padding to protect your device from bounces, bumps and knocks. Once your iPad or Kindle is tucked away in the inner pocket, it's safely and securely protected inside the Venue.

Easy access phone pocket
EVERKI's pursuit of quality and innovation is noticeable even in the small things. We believe details like the location of the phone pocket are critical. That's why the Venue's phone pocket is on the outside and in the back, so you can reach it quickly and easily. You don't have to open the flap or remove the bag to get to your phone. Done? Place it back in the easy-to-access phone pocket to keep it safe and secure.
Premium leather accents
For business casual, travel, or an urban outing, the premium leather accents of the black on black Venue are subtle, yet striking. We designed it be a perfect companion for the boardroom or the boardwalk. Modern, subtle, sleek.
Wide, ergonomic shoulder strap
The Venue's extra wide cross-body strap is strategically angled because we know you want the bag to stay close to your body. Its substantial width and high-end nylon makes it comfortable to wear and keeps it from bunching and folding. Details matter.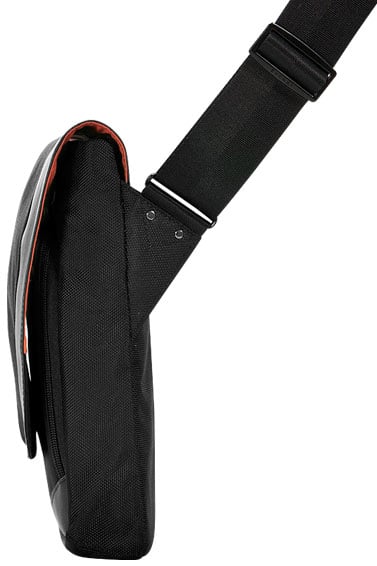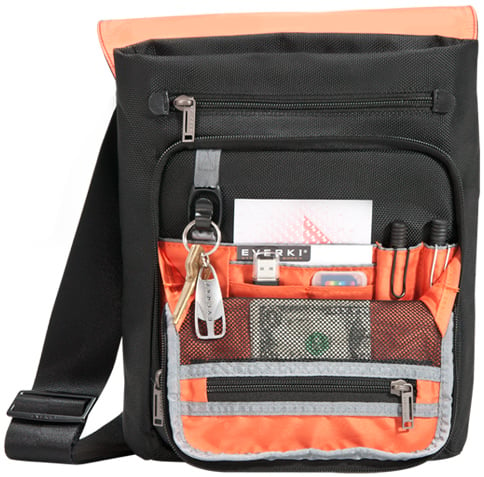 High-contrast lining
All EVERKI interiors are stylish, high-contrast orange because we know how frustrating it is to mistakenly leave a compartment unzipped, and how difficult it is to organize against a black background. Savvy and Stylish.
Durable zippers and metal pulls
Have you ever broken a zipper on your favorite bag? We have. That's why we designed the Venue using durable zippers and metal pulls. So your favorite bag can remain your favorite bag.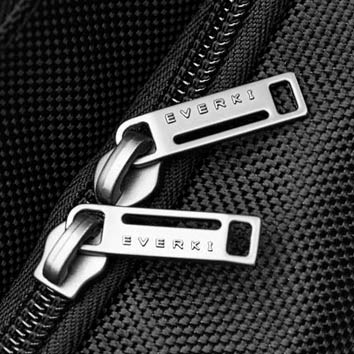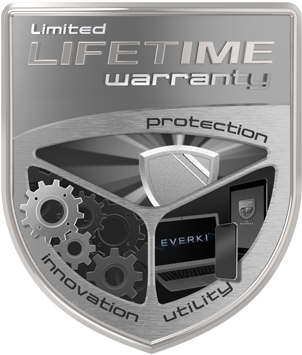 Peace of mind
EVERKI makes products of value because we value our relationships. Every product EVERKI makes comes with our Limited Lifetime Warranty which covers manufacturing defects over the entire life of the product. EVERKI. We give you peace of mind.
RFID-protected pocket
Felt-lined iPad/Kindle/tablet pocket
Well-organized compartments with easy access phone pocket
Premium leather accents
Magnetic quick-access pocket
Wide, ergonomic shoulder strap
Specifications

| | |
| --- | --- |
| Model | EKS622 |
| EAN | 0874933002345 |
| Fits device sizes | 10.5" |
| Fits tablets up to | 10.5" (26.7 cm) |
| Laptop pocket | 29 x 21.5 x 1.5 cm |
| External dimensions | 31 x 26.5 x 6 cm |
| Capacity | 4 L |
| Bag Weight | 0.56 kgs |
| Warranty | Limited Lifetime Warranty |
Customer Reviews
Most Helpful Customer Reviews
This is my 3rd Everki product. I am always amazed ...

This is my 3rd Everki product. I am always amazed by their design and choice of materials

This bag is perfect for me as a student. I only really carry my iPad Pro 9.7 inch with me to uni along with my calendar diary, Apple Pencil, Pens and other miscellaneous things.

This bag not only looks amazing, but it is also ridiculously well organised. Every thing they advertise is true.

However I will point out some quirks in the design of the bag.

The placement of the phone holder is a bit odd, it's actually a lot harder to access my iPhone 6 from this pocket. If they had a tab you could pull on to lift the phone out then it would remedy this instantly. I kind of have to dig around to get my phone.

I can only really carry my iPad and my diary with me in the bag, It would be nice if I could fit 2 diaries for example, though the tradeoff of storage for looks and form factor out weighs that in my opinion. Though I thought i'd just bring it to you attention. Space is cramped in the main compartment.

If you're a student that only carries a small computing device like an iPad then this product is for you.



Thank you for your feedback!

You already voted

Sorry, we failed to record your vote. Please try again
This item is exclusively available through the EVERKI online store.
Questions And Answers
QIs this bag waterproof?
AThe external materials have a water-repellent coating to protect against splashes/spills. It is not intended to hold up in extended rain situations.
Can't find your Answer?