ContemPRO
Roll Top Laptop-Ryggsäck, upp till 15,6-Tums - Marinblå
Den unga, lediga stilen hos ContemPRO Roll Top Laptop-Ryggsäck är väskan du väljer när du vill lägga lite distans till ditt kontorsutseende. Den extra stora öppningen överst på väskan gör att du enkelt kan packa stora och otympliga saker, medan din Roll Top Laptop-Ryggsäck förvarar saker med sitt professionella utseende.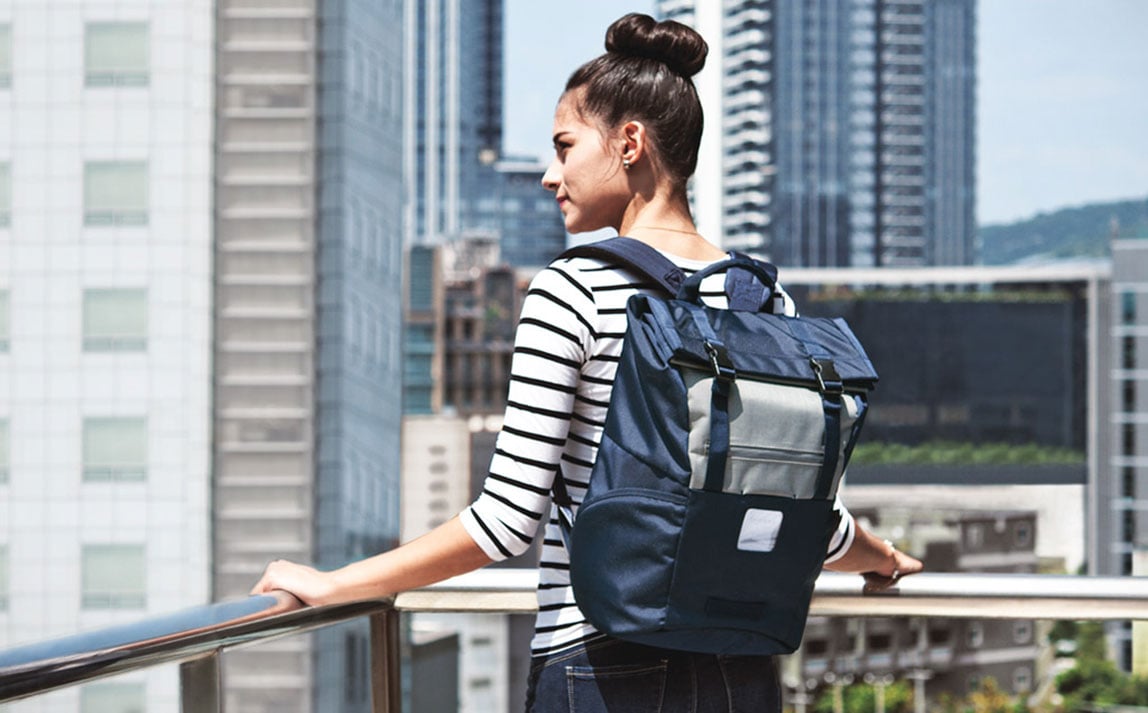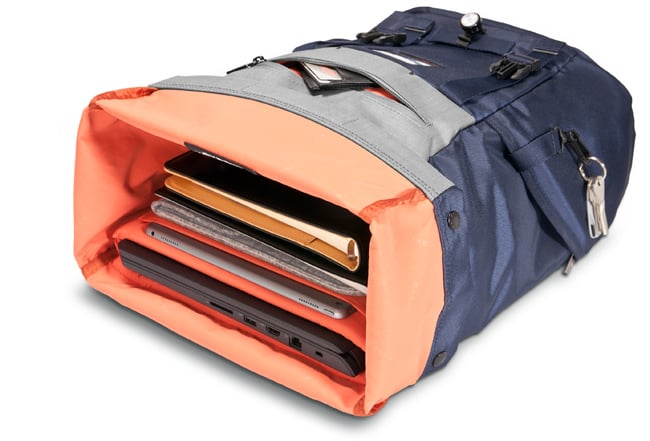 Roll Top Laptop-Ryggsäck
Roll Top Laptop-Ryggsäck från EVERKI är en elegant re-design av en klassisk favorit med en professionell tvist. Men låt dig inte luras av den unga och lediga stilen; denna väska är redo för kontoret med avsedda platser för både en laptop och en surfplatta. Och liksom alla EVERKI-väskor har vi utformat denna väska så att du kan ha allt du behöver inom räckhåll, som de multifunktionella sidfickorna som säkert håller din vattenflaska på plats, och den snabbåtkomliga fickan på framsidan för din telefon och annat du behöver enkel åtkomst till. Du hittar även flera slitsar, fickor och påsar för att hålla saker organiserade och inom räckhåll. Lägg lite intresse till ditt kontorsutseende.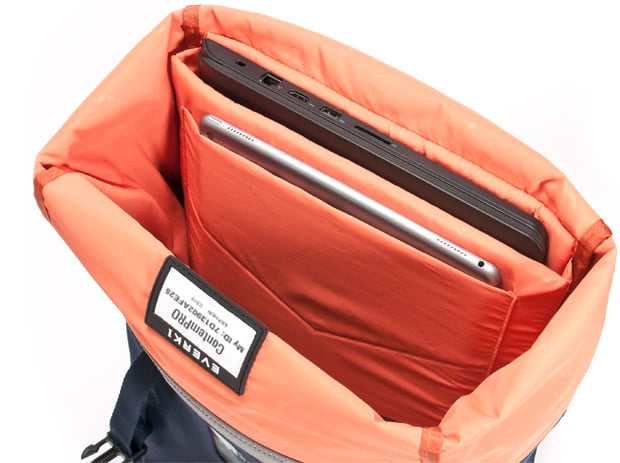 Fickor för laptop och surfplatta
Om du ofta kommer på dig själv med att ta med dig både en laptop och en surfplatta när du pendlar till kontoret varje dag, Roll Top Laptop-Ryggsäck kan vara något för just dig. Vi utformade huvudfacket med en avsedd Laptop-ficka som rymmer en Laptop på upp till 15,6 tum, tillsammans med en specialficka tillräckligt stor för att rymma dagens större surfplattor. Laptop-fickan är vadderad i botten, på framsidan och baksidan och förvarar tryggt dina enheter från stötar och slag – och fickan för surfplattan är vadderad för att förhindra repor. Stuva din elektronik bekvämt och tryggt i ContemPRO Roll Top Laptop-Ryggsäck.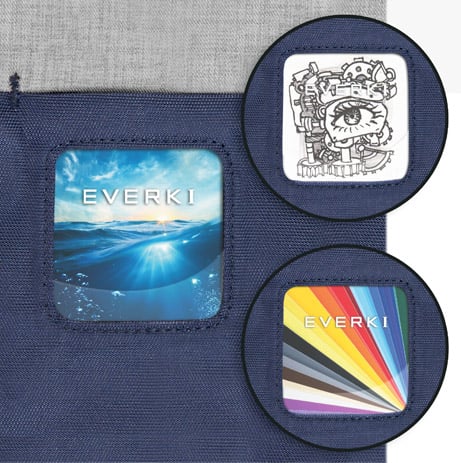 Anpassningsbart fönster
I varje del av ditt liv, vill du ha möjlighet att ge uttryck för dig själv, även genom din arbetsväska; vi skapade ContemPRO serien just för detta. Precis som alla väskor i ContemPRO serien, har Roll Top Laptop-Ryggsäck ett fönster på väskans framsida som kan anpassas. Väskan kommer med en uppsättning bilder, så att du kan välja en bild du gillar, eller designa en egen som matchar din personliga stil. Fönstret på väskans framsida hjälper att gör vad du alltid gör – att sticka ut från mängden.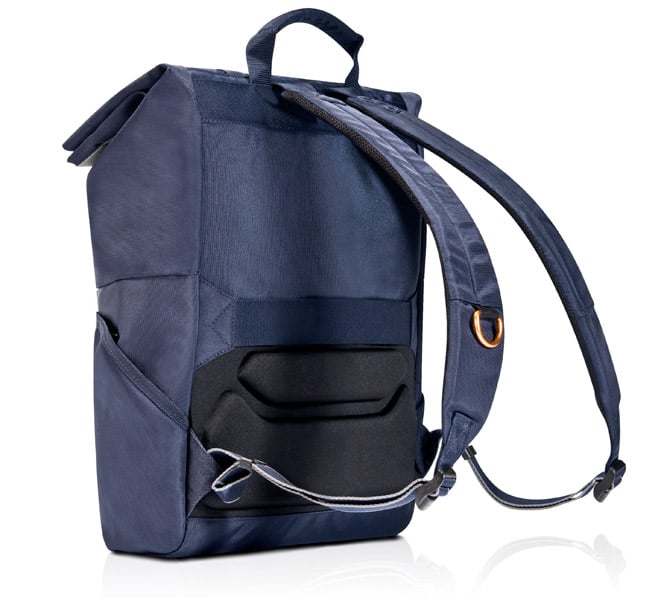 Bekväm att bära
Roll Top Laptop-Ryggsäcken rymmer massor. Den stora öppningen överst på väskan gör att du kan packa större och otympliga saker än vad som annars brukar vara möjligt att bära med sig i en vanlig väska; medan det rymliga huvudfacket är stort nog att rymma allt det du behöver för arbetet eller för en weekendresa. Och eftersom dina axlar bär på all vikt, utformade vi Laptop-Ryggsäcken med vadderade och reaktiva axelremmar som följer ägarens axlar, och en gjuten ryggpanel för ökad cirkulation – så även om din Laptop-Ryggsäck är full, kan du fortfarande bära den bekvämt.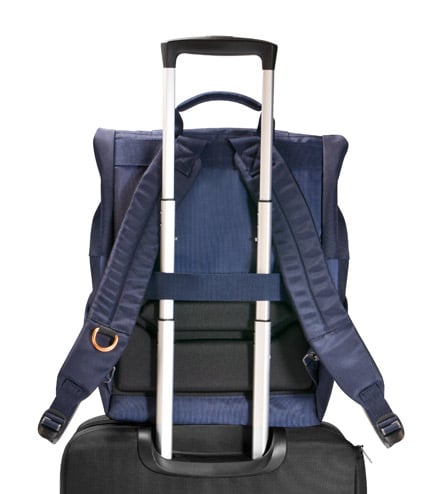 Rem till periskophandtag
När du reser med många väskor kan remmen på baksidan av Roll Top Laptop-Ryggsäcken underlätta för dig i dina ansträngningar. Bara trä din ryggsäck över handtaget till din bagagevagn och du är redo att rulla genom flygplatsen.
Vadderat bärhandtag
Ibland är det inte praktiskt att bära din ryggsäck på ryggen. Roll Top Laptop-Ryggsäck är utformad med ett vadderat bärhandtag; vilket gör det enkelt och bekvämt att bära din ryggsäck med en hand.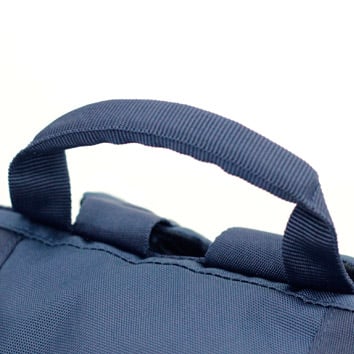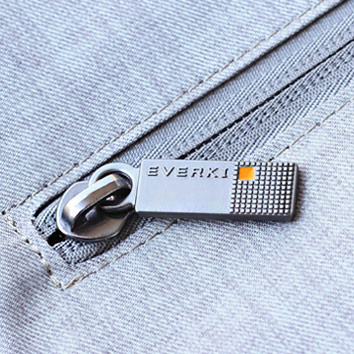 Hållbara dragkedjor och dragtappar av metal
Har du någonsin brutit av blixtlåsdraget på din favoritväska? Det har vi. Det är därför vi har utrustat Roll Top Laptop-Ryggsäcken med hållbara dragkedjor med drag av metall så att din favoritväska kan förbli din favoritväska.
Högkontrasterande foder
All EVERKI-interiör är i elegant och högkontrasterad orange eftersom vi vet hur frustrerande det är att av misstag lämna ett fack öppet, och hur svårt det är att organisera mot en svart bakgrund. Smart och elegant.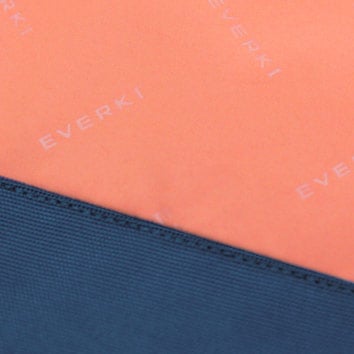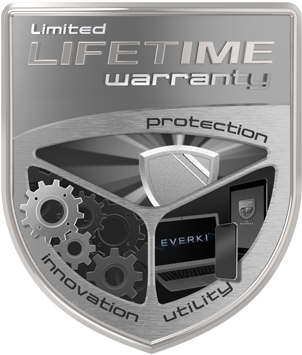 Sinnesfrid
EVERKI skapar produkter av värde eftersom vi värdesätter våra relationer. Varje produkt EVERKI tillverkar kommer med vår begränsade livstidsgaranti som täcker tillverkningsfel under hela produktens livslängd. EVERKI - vi ger dig sinnesfrid.
Dedicated pockets for 15.6-inch laptop and iPad/Pro/Kindle/tablet
Personalizable window
Spacious and well-organized
Multifunctional side pockets with water bottle loop
Comfortable and cooling molded back panel
Trolley handle pass-through
Mer information

| | |
| --- | --- |
| Modell | EKP161N |
| EAN | |
| Väskans vikt | kgs |
Denna artikel är uteslutande tillgänglig via EVERKIs webbutik.
Kundrecensioner
Most Helpful Customer Reviews
As someone who totes on her back bags in differen...

As someone who totes on her back bags in different shapes and sizes for 25 years, day in and day out, I know how important is that the bag in question has to be able to stand almost anything bar nuclear explosion and still protect its contents.

I've gone on a hunt for a new one three weeks ago because my much loved, used and abused one finally filled in for a divorce, citing tearing apart at the seams, inner lining falling off thus not protecting the contents I've mercilessly upended into it to the extremes more often than not (heavy books - hey, I was a student at that time, alright? - sharp edges, bulky clothes, more books and fragile electronics that miraculously survived their little trips to wherever I needed them.). The old one served me faithfully for long ten years, so yeah, retirement wasn't an option, but inevitable certainty. It was almost a divine miracle that all the zips managed to remain in one piece still!

Thus began two long weeks of searching the shops, both online and offline ones, and I don't know who was more frustrated - the clerks because they had to deal with my (unreasonable?) demands or I, who was at times mentally weeping at the state of the so-called bags worth of their - at times - exorbitant - prices. They always lacked something. Sometimes it was a safe pocket. Sometimes they were not water-proof. Sometimes it was that the side where a person's back touches the bag, was not reinforced. And to my horror, no reinforced bottoms! Or they had useful bits and bobs I would love to have, but they were attached to the whole which wasn't, even if I lowered my demands, acceptable to me.

My attention was at first grabbed by another bag of yours - Everki Titan. I have to admit, my jaw just about dropped when I saw that behemoth, and when I saw just what that bag offered to the user, it was set as a measure stick for all the bags. So no wonder that many, many bags after it failed any comparations henceforth!

However, the only beef I had with Titan was, that it was HUGE, and my height is only 5.4 feet. And seeing your promotional videos - thank you for including height of the models, very helpful, by the way- was that I. Was. A. Dwarf. Well. At least comparing to that Titan bag. Yeah, apt name. Very apt.

Let's flash-forward to the Day B - so, Day of Buying. At first, the ContemPRO wasn't in my sight - I was used to the zipped models, so I looked at the zipped models. End of the story. But the zipped models had one big fail, and that was they needed - not necessarily so, but still - a rain cover. (I am a bit sad you don't include it with all the bags, really.). But then, something clicked, and I saw it in a new light. It was already waterproof, the design was a little bit unusual and yes, I would have to get used to a totally new layout (where the heck are my pens now!?), but why not?

I admit I was more than a bit nervous (didn't help that delivery took its sweet time because of Mr. Easter Bunny), especially because I had no chance to test is live. It was a Hail Mary at its finest, no test drive/wear before taking it home, nothing. Yesterday, I've been in a sports shop and I saw a bag that completed almost all the requirements for a little less than half of the price tag of CONTEMPro bag. But I know the quality has its own perks, so I was confident in my buy.

Today, the day I've finally got the bag home. And all I can say, love. Love at the first sight, touch, and my back definitely sang me praises when I transferred all the bits and bobs out of my recently divorced bag to my new Everki one. (For that matter, the divorced bag sang me praises, too. If only because I've relieved it of it's constant burden.... oh, for, like, forever.). I was afraid that the bag would look or feel bulky on my back, but it sat here, light and easy as you please.

The bag has everything I wished for in a bag that will be with me from here on, day in and day out, for the longest possible time (Or at least until this one too, serves me divorce papers. But hopefully not for a long, long long time.).

Yes, the price was higher than I expected to shell out for a new bag, but considering that you always deliver quality products, tailored to the needs of a regular everyday bag-toter (like me!), it's perfect, and I promise to like it, love it and hoard it away from my brother who will undoubtedly want it for his own.

(He will just have to get over it and buy his own. This one is mine!)

If I ever want another bag for my needs, I now know where to look.

Thank you. Really.



Thank you for your feedback!

You already voted

Sorry, we failed to record your vote. Please try again

I bought this backpack when I received a new lapto...

I bought this backpack when I received a new laptop from work. I've been living with it for about 2 weeks on my commute and really like it.

I wasn't sure I'd like the roll-top style but it works well for me and there is plenty of storage. It's very comfortable even when fully loaded.

It seems very well constructed, very happy with the purchase.

Thank you for your feedback!

You already voted

Sorry, we failed to record your vote. Please try again
Questions And Answers
Hittar du inte ditt svar?