Titan
Travel Friendly Laptop Backpack, up to 18.4-Inch
Your bag should meet your device's expectations. Today's high-end gaming and multimedia devices will feel well-represented, secure, and comfortable in this sharp, smartly-designed and spacious backpack.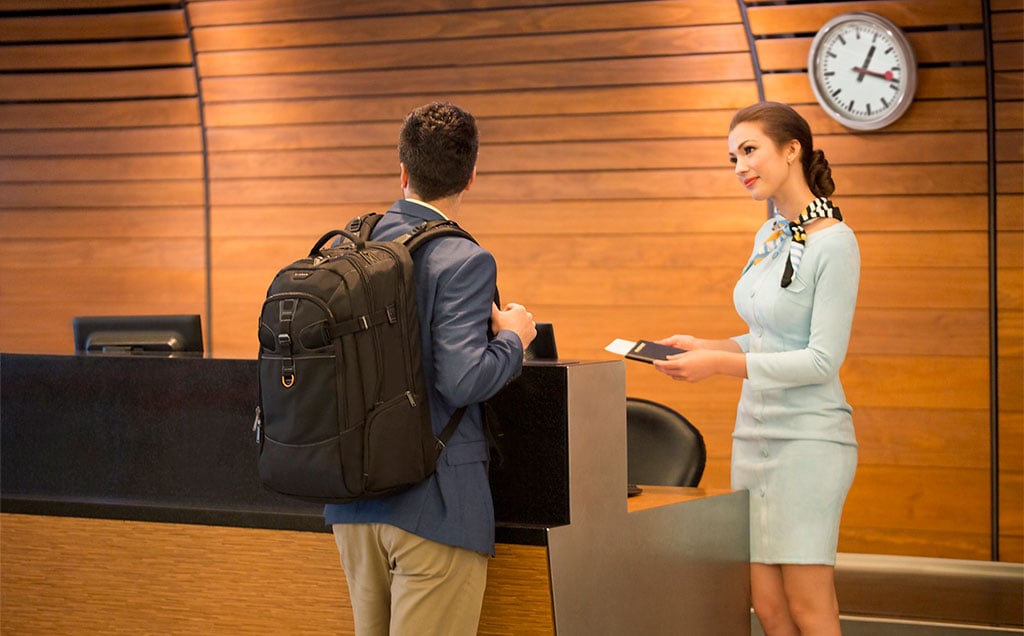 Large enough for life
The Titan. This is where function meets form. We've designed this backpack to be large enough to hold what you need, yet intuitive enough to find things where you expect them. Countless hours were spent designing, redesigning and testing the Titan to ensure the quality, versatility and style you've come to expect from an EVERKI bag. Our passion for function and a relentless attention to detail makes the Titan a veritable powerhouse. You require large compartments and high functionality, but you don't want to compromise on form. So the Titan is tailored to be spacious, yet stylish and sleek – with black exterior and high-contrast orange interior. We created the Titan to be just what you're looking for.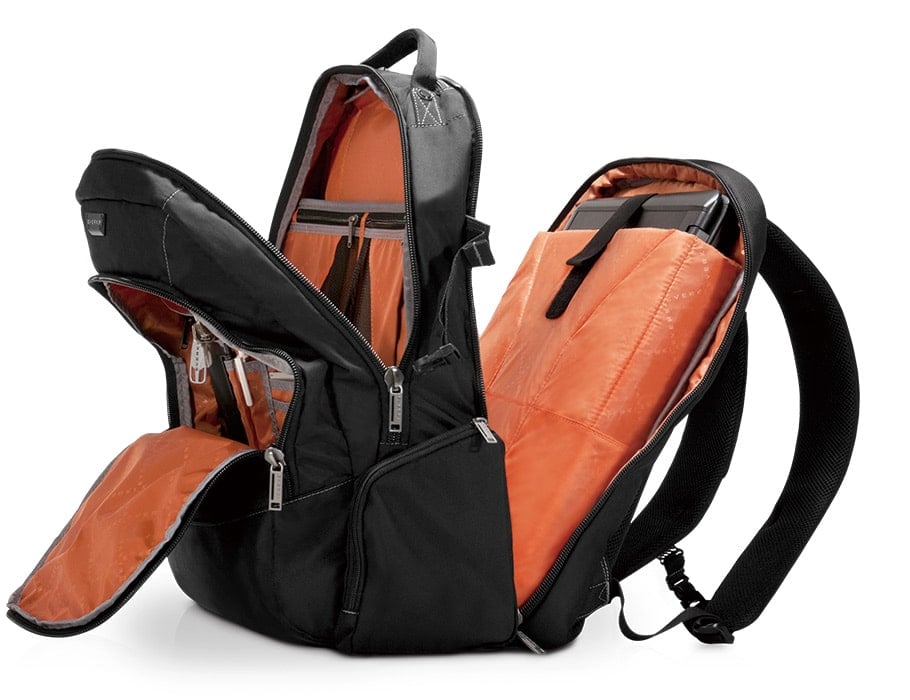 Intuitive design
Yes, The Titan has lots of large compartments, but that's not what makes it so innovative. We've designed intuitive spaces for smart organization, buckles and straps positioned for on-the-fly adjustments; and pockets, pouches and slots for fingertip access.

The extra large laptop compartment is roomy enough for the most behemoth 18.4-inch laptop. In the main storage area, you'll find large, divided spaces which allow you to keep chargers and power supplies separate from fragile files and documents. The felt-lined tablet pocket safely secures your iPad or Kindle, while the front compartment allows you to store business cards, pens, calculators or peripherals. And the soft, scratch free, lined portable media player pocket with cable outlet is positioned right at shoulder level to give you enough length in your cord for comfortable, slack free use.

Travel friendly
Airport security can be a big hassle, so we designed the Titan with our hassle-free 180 degree fold-out design. The Checkpoint Friendly laptop compartment allows you to breeze through airport security without removing your device from its compartment. Simply open the Titan up 180 degrees, lay it flat, and your bag will quickly pass through the scanner. Should you need to remove your laptop, you can take it out and replace it without rummaging through your backpack or removing other contents. Take the Titan on the plane with you. It's designed to fit in the cabin above and in most cases, under the seat. It's that friendly.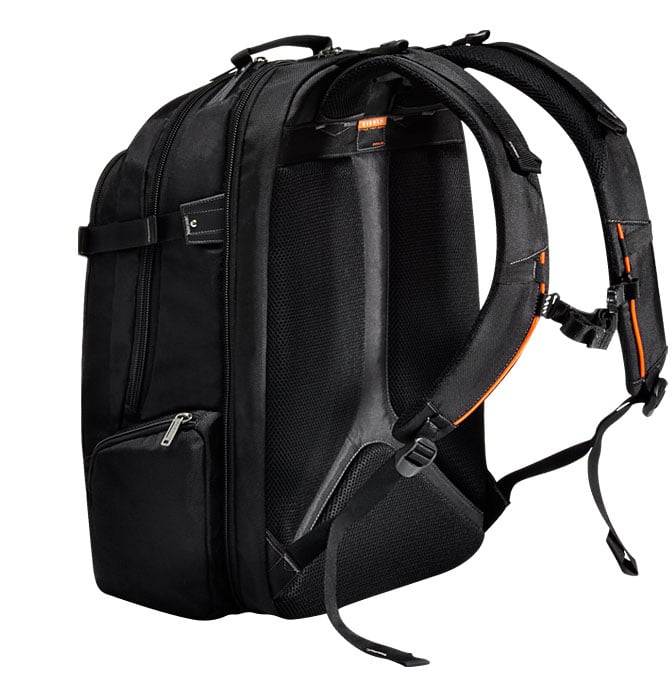 Ergonomically designed
When your backpack is fully loaded it can get heavy, so we engineered a 5-point balance strap system to ergonomically distribute the weight and reduce muscle strain. With pillow-soft straps adjustable at the shoulders, 2 quick-slide straps at the bottom and one across the chest; you have total control over weight distribution. This allows you balanced comfort, even when your backpack is full. The Titan's ergonomically designed carry system also boasts a padded back panel, mesh padding and deep airflow channels to provide maximum air circulation for breathability. The Titan: cool comfort, total control.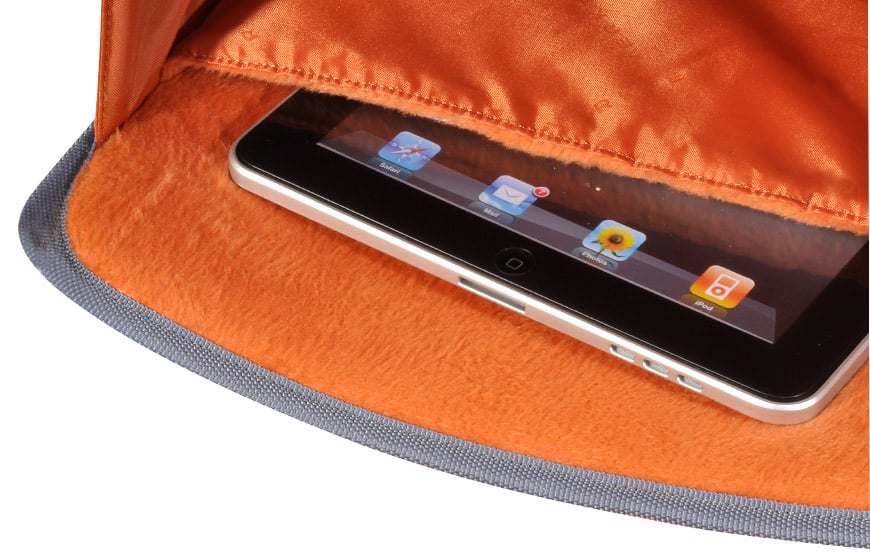 Security and protection
Your equipment is valuable, so we added multiple layers of padded protection, a security strap to keep your device in place, and super soft felt that ensures your laptop is secure and safe – even when traveling. The interior of the tablet pocket is also felt-lined and properly sized for an iPad, Kindle or other tablet to minimize damage caused by slipping and sliding. The Titan also comes with a water-resistant weather cover to protect your gear from the elements. The large metal zippers come with lock holes to keep your contents safe. Don't worry, you're covered.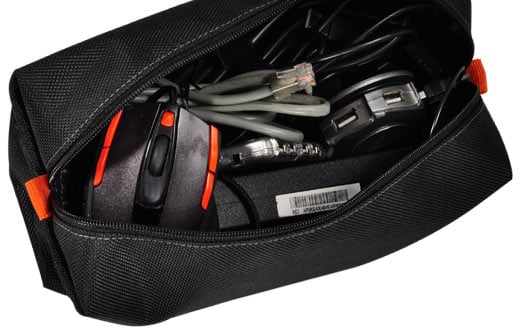 Accessories pouch
You don't want your power brick to get in the way or become a tangled mess. That's why we designed the Accessories Pouch to separate your mouse, chargers, power supplies and cables from your more sensitive items.
High-contrast lining
All EVERKI interiors are stylish, high-contrast orange because we know how frustrating it is to mistakenly leave a compartment unzipped, and how difficult it is to organize against a black background. Savvy and Stylish.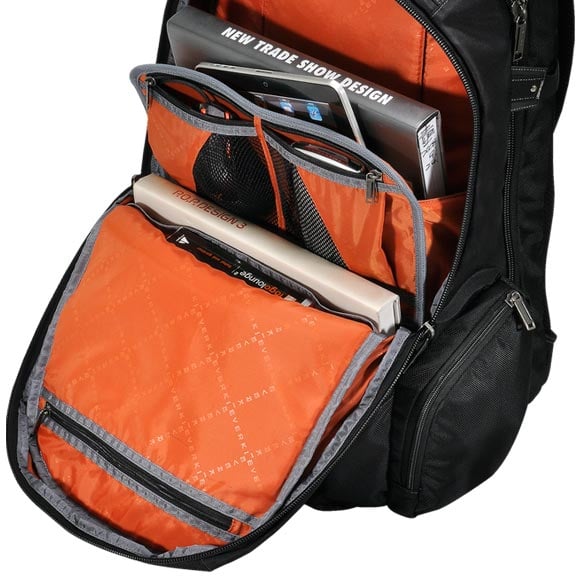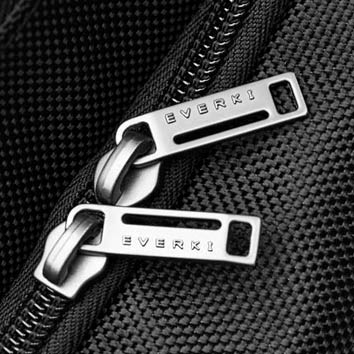 Large zippers and metal pulls
Have you ever broken a zipper on your favorite bag? We have. That's why we designed the Titan using heavy duty metal zippers with extra large pulls. So your favorite backpack can remain your favorite backpack.
Media player outlet
Cables tangled around your backpack straps? No more. The Titan comes equipped with a media-player compartment at shoulder level – and it's designed so you can keep your cables at just the perfect length.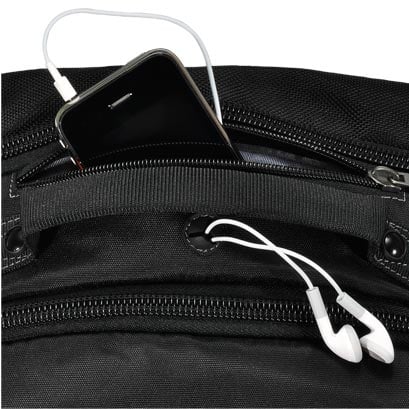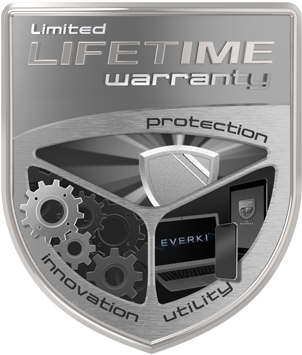 Peace of mind
EVERKI makes products of value because we value our relationships. Every product EVERKI makes comes with our Limited Lifetime Warranty which covers manufacturing defects over the entire life of the product. EVERKI. We give you peace of mind.
Checkpoint Friendly 18.4-inch laptop compartment
Felt-lined iPad/Kindle/tablet pocket
Water-resistant weather cover
5-point balance strap system
Ergonomic back panel and shoulder straps
Spacious, well-organized compartments
Specifications

| | |
| --- | --- |
| Model | EKP120 |
| EAN | 0874933002062 |
| Fits device sizes | 18.4" (47.0 cm) |
| Fits tablets up to | 13" (33 cm) |
| Laptop pocket | 52 x 33 x 5 cm |
| External dimensions | 54 x 38 x 21 cm |
| Capacity | 40 L |
| Bag Weight | 1.96 kgs |
| Warranty | Limited Lifetime Warranty |
Customer Reviews
Top Reviews
3 people found the following review helpful

Been using my Everki Titan for over a year now and...

Been using my Everki Titan for over a year now and love it. It holds an insane amount of stuff including my Alienware 17R4 and adapter/hard drivers/ cables/ tablets / Raspberry Pi / Controllers etc...all at once.

I also use this bag to transport my laptop to and from work on my motorcycle and it works amazingly well.

I unfortunately broke one of the clips and Everki offered to just replace the bag! Even though I just wanted to buy a new clip and fix the bag I had.

Amazing customer service even when it was clearly my fault the clip broke.

Highly HIGHLY recommend this bag to anyone looking for a large laptop bag.

I bought this bag because of a friends experience with Everki and I will be recommending them to everyone I know as well. Everki has a customer for life in me.



Thank you for your feedback!

You already voted

Sorry, we failed to record your vote. Please try again

3 people found the following review helpful

Nice bag, lots of space and supports large laptops...

Nice bag, lots of space and supports large laptops like the Alienware 17R3. I've had the bag for a few days and am already considering returning it (at the very least I will be exchanging it). The zippers for the laptop space have gone through the padding and damaged my laptop from simply placing it on the table. There is an actual split in the padding where the zipper went through and marks on both my laptop and the zipper. The hope was this bag would protect the laptop, not damage it from normal use.

I give the bag 2 starts as it has a lot of nice feature, but the core intent for having this is to protect my laptop, and it failed greatly on doing that.

Thank you for your feedback!

You already voted

Sorry, we failed to record your vote. Please try again

2 people found the following review helpful

Yes - they are THAT good!

I have been a Titan Backpack user for over 5 years now and had given a review after having it for a few months. I figured a new review, with my experience with the backpack, would be good for users looking at them.

I am a road warrior - and I am very fussy about the equipment I travel with. For the last 5 years I have been lugging around a 18.4 Dell Alienware computer in my backpack - also loaded with lot of other gear. This laptop had destroyed 2 other (non-Everki) backpacks in less than the first 4 months. They just could not handle the weight! So - I went searching for a new back pack - and found Everki. To be honest, at first I was sceptical - but after I got the backpack and went on my first trip - I was sold! I have at many times just thrown the backpack over one shoulder - and the strap had no problem with that weight! There were many times I had about 40 lbs in the backpack and it has held up incrediably well over the years!

This packpack has all the pockets and storage you will need. I would carry around a 18.4" laptop, it's huge power bar, two tablets, cables, mice, folders, papers, presentation projector, security devices, etc. I never had any issues not only fitting it all in - but finding places to put them.

Everki's warranty is all that they claim as well. I had lost a strap (it fell off) - and they had a new strap to me within days of reporting it. Their support team was polite and prompt - and once they verified what had gone wrong - they fully supported their product!

The only thing I would recommend for Everki to change on this backpack - would be to put a little more padding/cushion at the bottom-back of the backpack - where the laptop is at. When I would lay the backpack down at times - it felt that it could use some additional padding there. But I never had any damage - so I guess there is enough padding after all.

This is a top notch product! I have absolutely no hesitation in recommending the Titan back pack and Everki to anyone... When I need a new one - I will be purchasing another Everki backpack.


Bradley MacDonald
Greater Vancouver, BC
brad_AT_timeacct_DOT_com

Thank you for your feedback!

You already voted

Sorry, we failed to record your vote. Please try again

2 people found the following review helpful

Lots of room, even was able to fit my purse in it!...

Lots of room, even was able to fit my purse in it! It is heavy, even when empty. The chest strap is my biggest complaint - had to return as the chest strap does not slide up the shoulder straps enough to fit properly on a woman, rendering it useless. This was definitely designed for a man.

Thank you for your feedback!

You already voted

Sorry, we failed to record your vote. Please try again

1 person found the following review helpful

Awesome backpack and great customer service. EVERYONE, THEIR LIFETIME WARRANTY IS REAL!

This laptop has survived all of engineering school with me. I regularly packed it to the brim with a binder, multiple books, drafting kit, scientific calculators, fullsize hole-puncher, and a gaming laptop and handled it like a champ. Also every time I had to travel either for my internships or pleasure this was my go to bag and fits more than the standard carry-on. Now as a fulltime engineer I still prefer to take this backpack for my business trips. Recently my backpack started to have issues with the stitching on the top zipper and handle. I contacted customer support (Daniel was friendly and very helpful), followed their simple process to a make a claim and had a new one at my doorstep in less than a week. EVERYONE, THEIR LIFETIME WARRANTY IS REAL!

Thank you for your feedback!

You already voted

Sorry, we failed to record your vote. Please try again
Questions And Answers
Can't find your Answer?