Atlas
Wheeled Laptop Backpack, 13-Inch to 17.3-Inch Adaptable Compartment
Offering you the functionality and intuitive design you've come to expect from an EVERKI backpack, with the traveling ease of a wheeled trolley. Now your mobile office will be completely organized, accessible and easy to maneuver.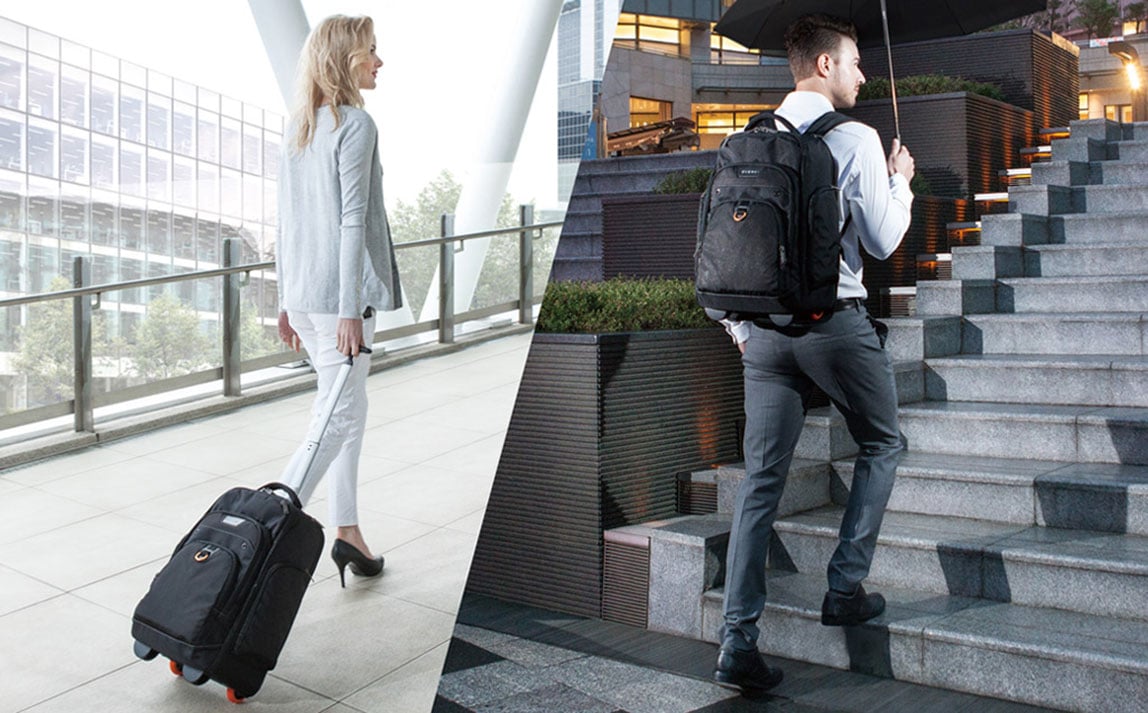 The Atlas series of laptop bags
As a mobile professional, you know the demands of business travel; and you know that each leg of the journey comes with specific challenges. That's why we designed the Atlas Series of bags to handle all of travel's complexities, and loaded each bag with solutions to help make your trip streamlined and efficient. Every bag in the Atlas series is rich with flexible functionality and offers a multiplicity of organizational features that really work hard for you, while the intuitive design makes organizing a breeze. You'll find meaningful details throughout to meet your travel needs, like dedicated spaces to pack multiple devices including your laptop and tablet. So whether you're looking for a traditional-style backpack or a wheeled solution; EVERKI's feature-rich Atlas Series of bags are the ideal choice.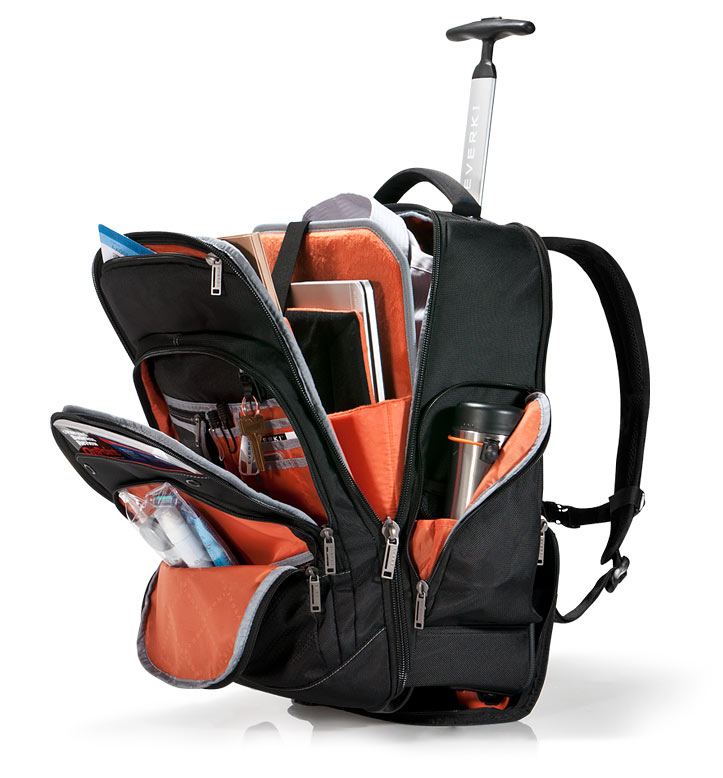 The mobile backpack with versatile functionality
The Atlas Wheeled Laptop Backpack offers flexibility as well as thoughtful functionality. You can quickly wheel its sleek profile through the airport, or if needed, comfortably carry it as a backpack with the well-padded and extra wide straps. Our innovative, removable and adjustable laptop pocket will secure a 17.3-inch laptop or a slim 13-inch Ultrabook. And if you're not carrying a laptop this trip, take out the laptop pocket to make room in the spacious main compartment for additional garments or gear. You'll also find a dedicated pocket for a tablet, an RFID-protected pocket, designated spaces for your keys, water bottle, magazine, and more. The Atlas – versatility on wheels.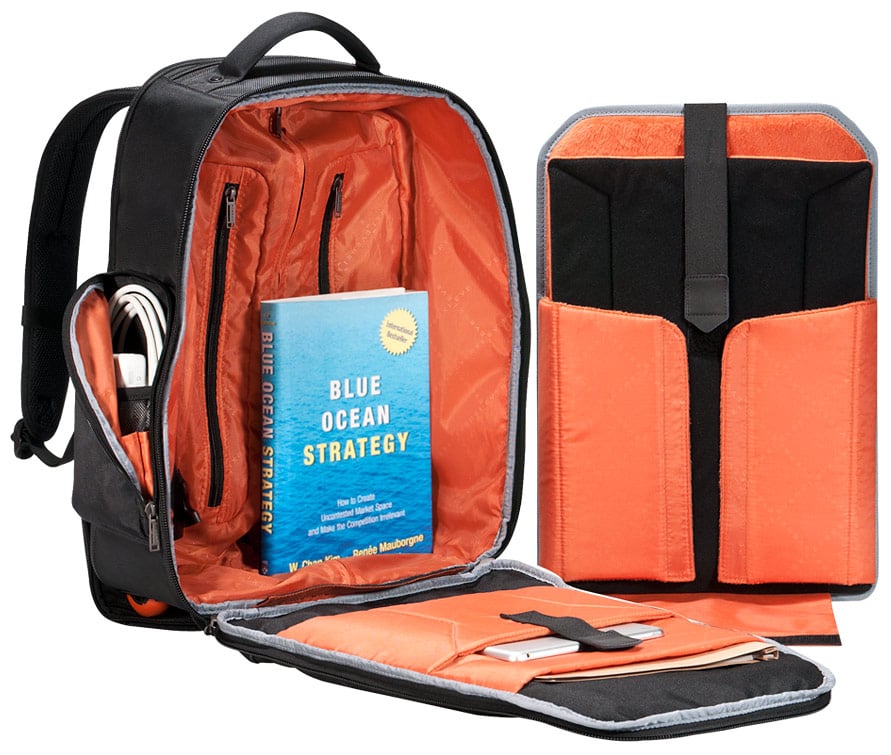 Multiple secure technology pockets
Laptops come in many sizes. That's why we designed the innovative laptop pocket to fit a wide variety of laptops. Our fully padded laptop pocket adapts to snugly secure a slim 13-inch Ultrabook or a large 17.3-inch rugged laptop; or you can remove it completely for even more space in the main compartment. Simply customize the size of the pocket from the bottom and both sides, then secure the strap at the top. Carrying your tablet also? The Atlas has a place for that as well. The easy access iPad/Kindle/tablet pocket is lined with super-soft felt to protect from nicks and scratches.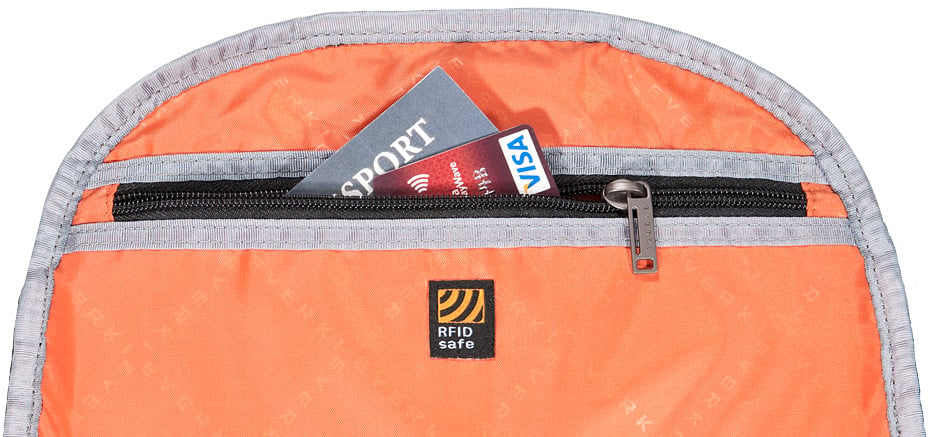 RFID protection
Most contemporary passports, credit cards and smart cards come equipped with an RFID micro-chip. Carrying them may make you vulnerable to illegal remote scans of the personal information stored on them. Identity theft is a serious concern. So we designed the Atlas to protect the sensitive data on your passport and credit cards with an RFID-protected pocket. Simply slip your passport, credit cards or other forms of identification into the secure pocket, and your personal and banking information are safe from unwanted RFID scans.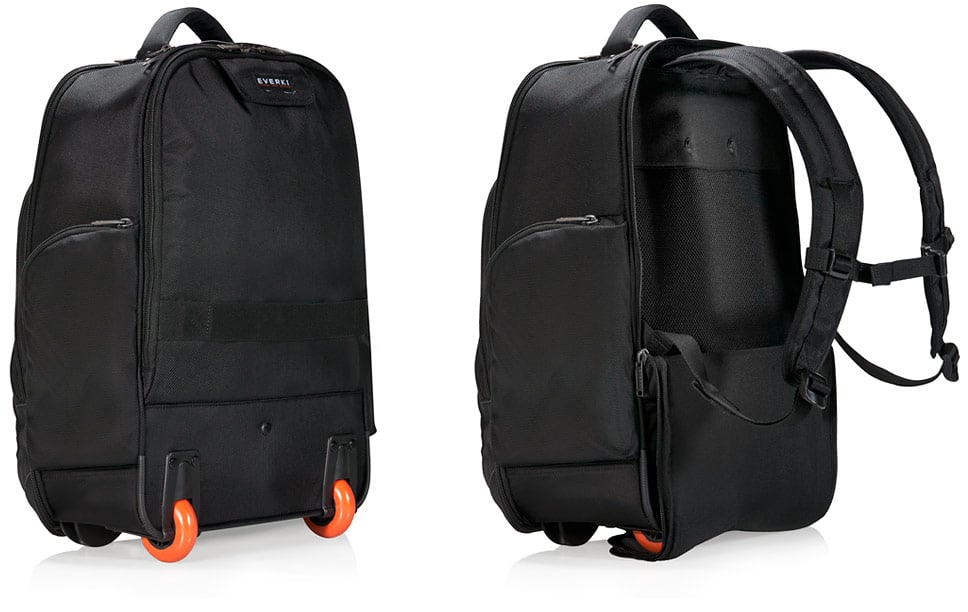 Comfortable and quiet
We've engineered the Atlas with large, sturdy wheels that are inset into the bag for a smooth, quiet ride through the airport or into the office. When you can't roll your bag, use the extra wide, padded straps to carry the Atlas as a backpack. The weight distributing chest strap balances the load front-to-back, and the straps won't dig into your shoulders when the pack is loaded. The backpack straps are neatly zipped away in the back flap when they're not in use, and the same flap covers the wheels and protects your clothes when you're carrying it as a backpack. Discreet, quiet comfort.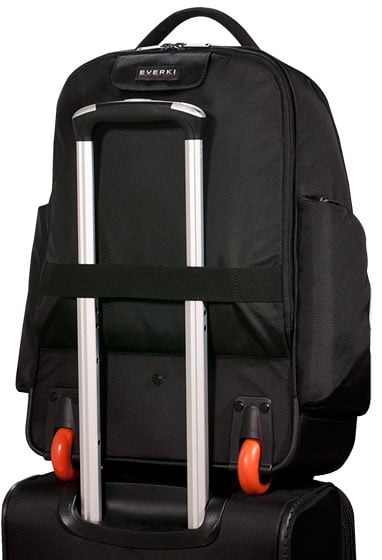 Trolley handle pass-through strap
When you're traveling with many bags, the pass-through strap on the back of the Atlas allows you to double your efforts. Simply compress the telescoping trolley handle and slip the Atlas onto the handle of your roller luggage.
Wheel cover
When inclement weather or rough terrain require you to carry the Atlas as a backpack, don't worry. Unzip the flap that conceals the backpack straps, tuck it under the bag and secure it to the Velcro closure to cover the wheels. No dirt, dust or marks on your clothing.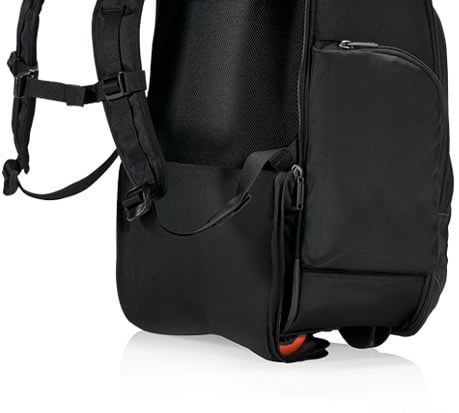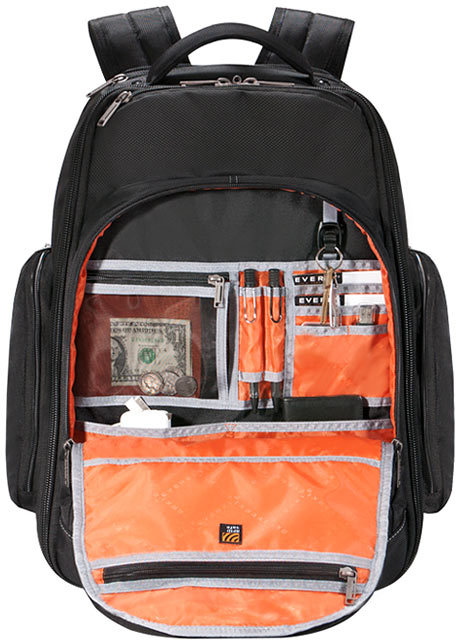 High-contrast lining
All EVERKI interiors are stylish, high-contrast orange because we know how frustrating it is to mistakenly leave a compartment unzipped, and how difficult it is to organize against a black background. Savvy and Stylish.
Durable zippers and metal pulls
Have you ever broken a zipper on your favorite bag? We have. That's why we designed the Atlas using durable zippers and metal pulls. So your favorite bag can remain your favorite bag.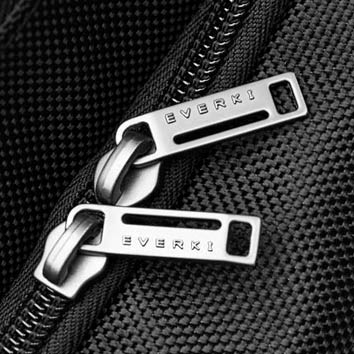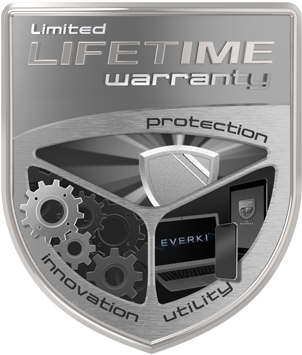 Peace of mind
EVERKI makes products of value because we value our relationships. Every product EVERKI makes comes with our Limited Lifetime Warranty which covers manufacturing defects over the entire life of the product. EVERKI. We give you peace of mind.
Removable adjustable laptop pocket for 13-inch to 17.3-inch devices
Spacious, well-organized compartments
Felt-lined iPad/Kindle/tablet pocket
Smooth, quiet wheels
RFID-protected pocket
Hidden wide, comfortable and well padded shoulder straps
Specifications

| | |
| --- | --- |
| Model | EKP122 |
| UPC | 874933002352 |
| Fits device sizes | 13 - 17.3" (33.0 - 44.0 cm) |
| Fits tablets up to | 10" (25.4 cm) |
| Laptop pocket | 42 x 28.3 x 3.8 cm |
| External dimensions | 54 x 40 x 20.5 cm |
| Capacity | 30 L |
| Bag Weight | 3.03 kgs |
| Warranty | Limited Lifetime Warranty |
Customer Reviews
Top Reviews
11 people found the following review helpful

Remarkable this product is not reviewed. It is NO...

Remarkable this product is not reviewed. It is NOT the Dream bag I had hoped for. It is a well constructed bag, and with a computer on board it is not lightweight at all. I keep my daily life necessities in this bag - I am an event producer in NYC and commute, often daily, but also must carry alt. clothing etc. I can do this with great planning in this bag, but At just under 6' tall, despite communication with the mfg while purchasing, this bag handle is insufficient for anyone 6' +. The heel kick I experienced in first 14 days was remedied by a 3rd pty luggage handle I found on Amazon.

I like the product though. And the customer service when my first bag arrived with a damaged zipper was exemplary. But the bag on wheels is imbalenced with an admittedly heavy load and the bottom corners are starting to show ill effects of an admittedly rugged NYC commuter's demands. I plan on ordering a shoulder Messenger bag though, as the outer fabric is durable and so far waterproof in my use.

But the tow handle is an issue Everki MUST address. I was initially told by a 6'3" customer service rep that I would find the handle long enough to eliminate "heel kick" as he had field tested this bag himself. He must have arms that reach below his knees The handle is 6" too short for my very normal 6' frame. The luggage handle I employ is not perfect and as a result, the bag frequently "spins" and goes off axis and drags on the sidewalk. Daily. So that's a drag.

The interior of the bag is ingenious and wonderfully laid out in general, but a bit tight in the front compartments. I would buy this bag again if Everki made some very basic improvements to it's versatility.



Thank you for your feedback!

You already voted

Sorry, we failed to record your vote. Please try again

9 people found the following review helpful

Simple changes will make this an Exceptional Bag

The weight distribution is OFF on the Atlas wheeled backpack, making it harder and slower to drag compared to the 15 year old roller bag (DragBag from Australia) it is replacing. Three simple design changes will make the Everki Atlas an exceptional roller bag. One, slightly Bigger Wheels. Two, a Longer handle that Curves. Three, a more comfortable handle. Otherwise, it is spacious and well constructed.

Everki, would you consider making these simple changes? I will be happy to be a tester for you.

Thank you for your feedback!

You already voted

Sorry, we failed to record your vote. Please try again

9 people found the following review helpful

October 2017 Update: Everki's warranty and custom...

October 2017 Update: Everki's warranty and customer support are simply fabulous.

A small flaw in my bag, barely noticeable at first, slowly grew into a visible fabric tear in my Everki Atlas. After three years of hard use, I finally sent a picture of the tear to Everki who responded immediately, and who have just replaced the entire bag.

Everki stands behind its products in a way far beyond what we expect. Their lifetime warranty is, indeed, a lifetime warranty. Impressed and delighted I am.

[original 2014 review - still true]

What a well made, handy, superbly designed backpack. I am delighted.

This pack holds my laptop, my tablet, a bunch of chargers and cables, office files about 2 inches thick, pencils and pens, sunglasses (and more), basic personal stuff like keys, wallet, ID card, hair brush. And more.

I have moved from a (wonderful, rolling) briefcase to this because of my travel. I can now run with several day's worth of files and my entire portable office, take it on a plane, put on the car seat next to me, carry it by the handle, put it over a shoulder, carry as a back pack, or set it on the table. It's easy to get stuff out of on a plane or train. I haven't figured out uses for all of the pockets, yet. But there's still time.

Thank you for your feedback!

You already voted

Sorry, we failed to record your vote. Please try again

7 people found the following review helpful

Love the space in this bag! Quality engineered. On...

Love the space in this bag! Quality engineered. Only complaint is with handle. Sticks on first articulation.... very frustrating. Hope Everki figures this one out. I have multiple Everki products, which I love, but would reconsider other options for wheeled backpacks. This was a Fathers Day present that I was looking forward to. Spend about 200 day a year on road, but concerned with this deign.

Thank you for your feedback!

You already voted

Sorry, we failed to record your vote. Please try again

6 people found the following review helpful

The Atlas wheeled is a truly Great Bag. I had the...

The Atlas wheeled is a truly Great Bag. I had the most ginormous wheeled leather laptop briefcase made by CompuCase from about 2003 or so. It's been all over the country and has seen a lot of day use for the last 13 years. Rather than spend a lot of $ fixing the odds and ends it needs (again), I splurged and dove into modern tech with the Atlas wheeled laptop. I migrated all of my stuff over from the old briefcase and am still amazed that the Atlas had a place for everything. I've looked at other laptop briefcases but they just didn't have enough individual areas to store the items I need to tote around with me day to day.

The Atlas is made very well (any back that has a serial # to register HAS to have something going for it. right? Great storage, very well built. It is not cheap, but it also far surpasses my expectations, so is a great value for the investment. I'm looking forward very much to travelling with it. Fully loaded to the gills it will still easily slip into an overhead compartment of even the small regional jets. Nice job Everki and thanks!!

Thank you for your feedback!

You already voted

Sorry, we failed to record your vote. Please try again
Questions And Answers
Can't find your Answer?