Venue XL
Premium RFID Mini Messenger, fits iPad Pro 12-Inch/Surface Pro/MacBook 12
You'll find spaces for what you need during a flight or your trip to the corner café. With its intuitive layout and black on black leather accents, it's sure to become your favorite essentials bag.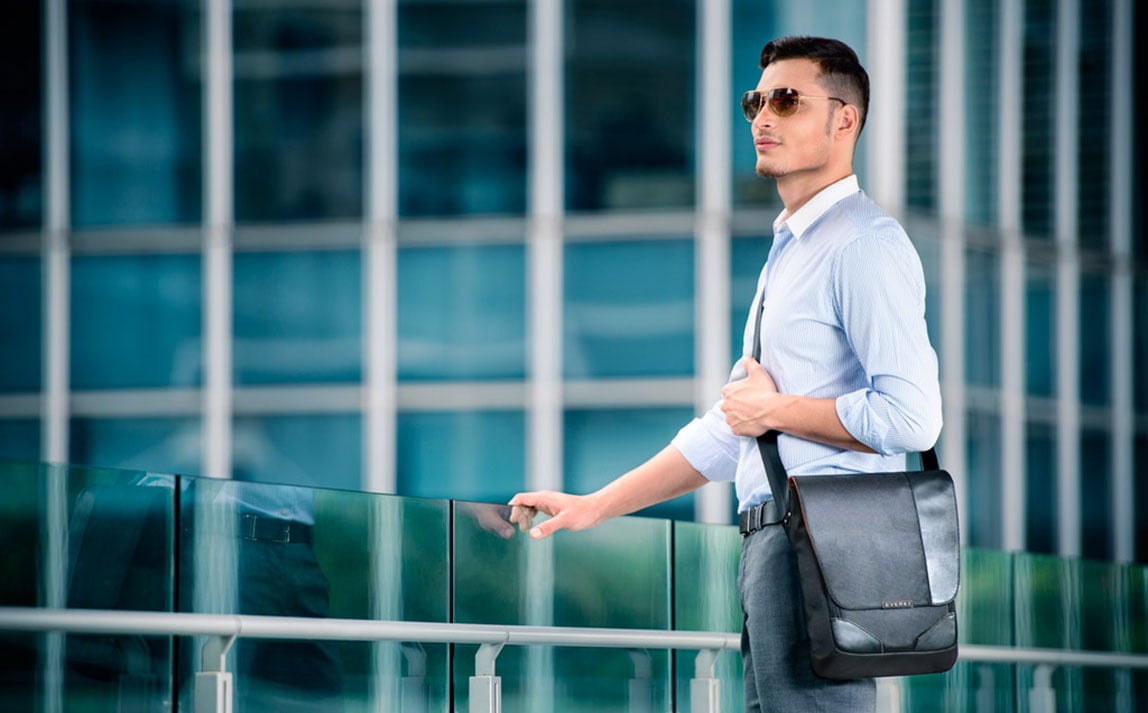 Simplicity is essential
The Venue XL Mini Messenger. Knowing you're always mobile, we designed this bag to transition seamlessly from travel to meeting or from day bag to evening outing. The usability of the cross-body design will quickly make the Venue XL your favorite essentials bag. Your mobile device, notepad, passport, travel documents and phone can all be stowed away securely in EVERKI's signature high contrast orange interior and it's RFID protected to secure your personal data. The clean, modern design is the perfect partner for your international flight or your urban outing. It's constructed using high performance ballistic nylon to resist wear, water, dirt and damage and accentuated with premium leather accents. The black on black makes its aesthetics as slick as its performance and the intuitive design makes it smart for an everyday bag. The Venue XL – compact in size, robust in style.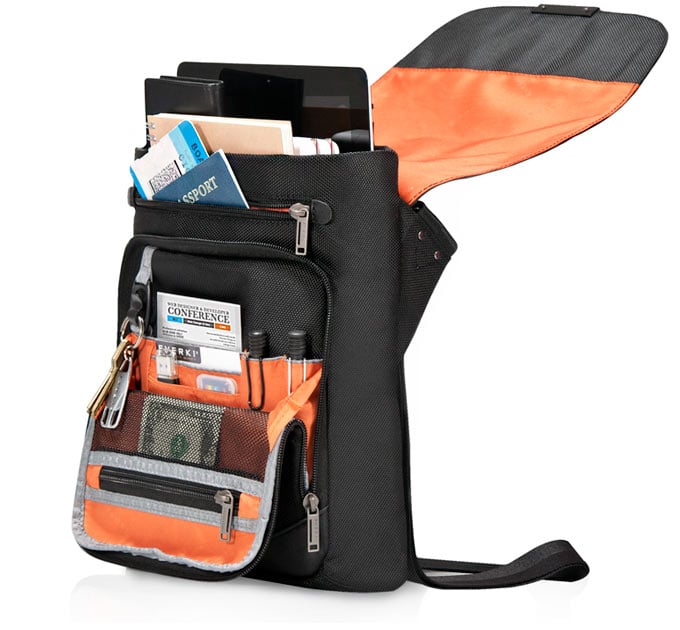 EVERKI's intuitive design
We've engineered the Venue XL for optimal user interface. Store your iPad Pro 12-Inch, Surface Pro or MacBook 12-Inch in the felt-lined and padded pocket. We've made the top flap generously proportioned for easy access, and multiple interior spaces allow you to find everything without any fumbling around. Protect your passport and credit cards in the RFID pocket, while the mesh pocket is perfect for your wallet. There are small slots for a stylus, earbuds, pens, a calculator, notepad and other peripherals and a designated hook for your keys. Your phone is easily accessible in its own special compartment, right at the back of the bag so you can quickly retrieve it without opening up the main compartment. The extra wide shoulder strap is engineered at an angle to keep the bag close to your body. Stylish organization for on-the-go functionality.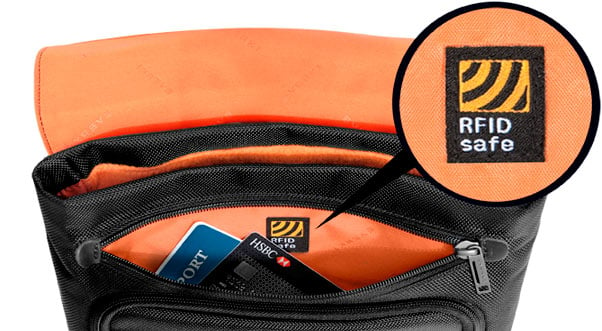 RFID protection
Most contemporary passports, credit cards and smart cards come equipped with an RFID micro-chip. Carrying them may make you vulnerable to illegal remote scans of the personal information stored on them. Identity theft is a serious concern. So we designed the Venue XL to protect the sensitive data on your passport and credit cards with an RFID-protected pocket. Simply slip your passport, credit cards or other forms of identification into the secure pocket, and your personal and banking information is safe from illegal RFID scans.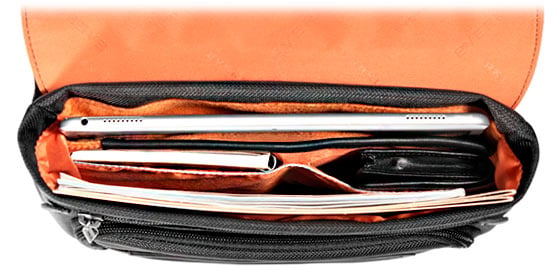 Felt-lined and extra padded tablet pocket
When you're traveling or sight-seeing, your bag can get knocked and bumped. That's why we constructed the Venue XL with multiple layers of protection in the device compartment. Starting with EVERKI's signature, super-soft, high contrast orange felt in the interior of the device pocket to protect against scratches and nicks. The bottom of the compartment has multiple layers of padding to protect your mobile device from bounces, bumps and knocks. Once your iPad, Surface or tablet is tucked away in the inner pocket, it's safely and securely protected inside the Venue XL.

Easy access phone pocket
EVERKI's pursuit of quality and innovation is noticeable even in the small things. We believe details like the location of the phone pocket are critical. That's why the Venue XL's phone pocket is on the outside and in the back, so you can reach it quickly and easily. You don't have to open the flap or remove the bag to get to your phone. Done? Place it back in the easy-to-access phone pocket to keep it safe and secure.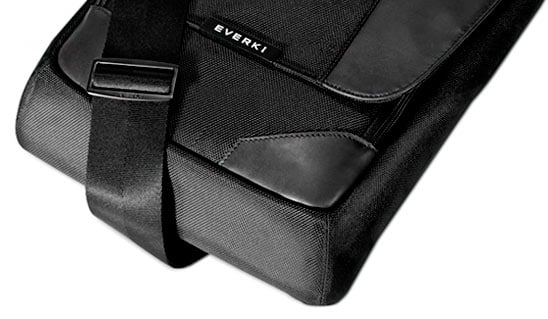 Premium leather accents
For business casual, travel, or an urban outing, the premium leather accents of the black on black Venue XL are subtle, yet striking. We designed it be a perfect companion for the boardroom or the boardwalk. Modern, subtle, sleek.
Wide, ergonomic shoulder strap
The Venue XL's extra wide cross-body strap is strategically angled because we know you want the bag to stay close to your body. Its substantial width and high-end nylon makes it comfortable to wear and keeps it from bunching and folding. Details matter.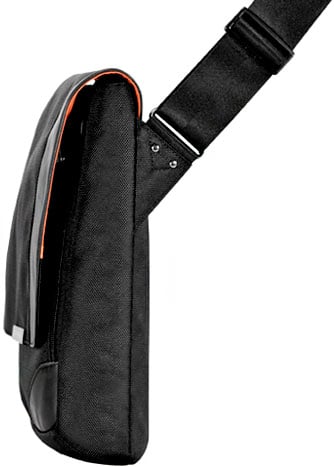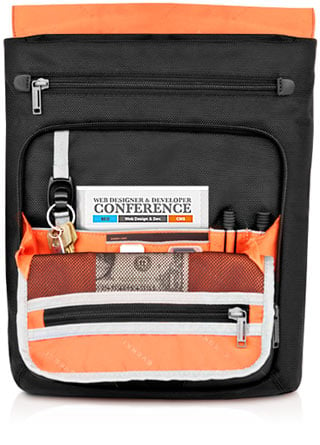 High-contrast lining
All EVERKI interiors are stylish, high-contrast orange because we know how frustrating it is to mistakenly leave a compartment unzipped, and how difficult it is to organize against a black background. Savvy and Stylish.
Durable zippers and metal pulls
Have you ever broken a zipper on your favorite bag? We have. That's why we designed the Venue XL using durable zippers and metal pulls. So your favorite bag can remain your favorite bag.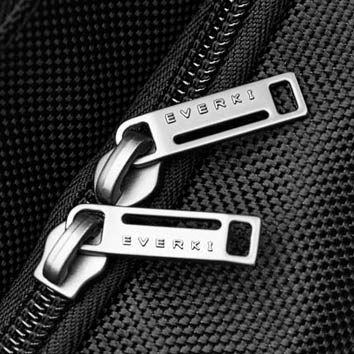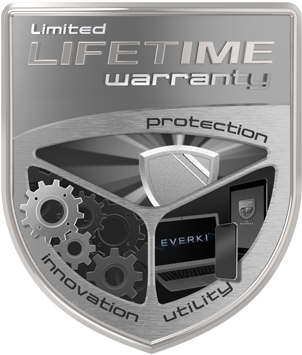 Peace of mind
EVERKI makes products of value because we value our relationships. Every product EVERKI makes comes with our Limited Lifetime Warranty which covers manufacturing defects over the entire life of the product. EVERKI. We give you peace of mind.
RFID-protected pocket
Felt-lined iPad Pro 12-inch/Surface Pro/MacBook 12 Pocket
Well-organized compartments with easy access phone pocket
Premium leather accents
Magnetic quick-access pocket
Wide, ergonomic shoulder strap
Specifications

| | |
| --- | --- |
| Model | EKS622XL |
| EAN | 0874933002406 |
| Fits device sizes | 13" (33cm) |
| Fits tablets up to | 13.0" (33.0 cm) |
| Laptop pocket | 30.5 x 22 x 2.5 cm |
| External dimensions | 33.5 x 28 x 7 cm |
| Capacity | 6 L |
| Bag Weight | 0.65 kgs |
| Warranty | Limited Lifetime Warranty |
Customer Reviews
Top Reviews
1 person found the following review helpful

Everyday for work, I have been using an everki bac...

Everyday for work, I have been using an everki backpack which has served me well over the past two years. However, I got tired of stuffing it with things I really didn't need to carry periodically, plus the backpack itself seems heavy though well built.

I saw this online and decided to give it a try. It's a great lightweight carry with top notch quality. I managed to trim-down my everyday essentials to fit this bag perfectly. Overall I am pleased with the value. The shoulder strap is wide and does to tangle when grabbing, the magnetic tab on the flap hold shut, even if the bag is full.

I have a small HP business laptop that fits just right. I did measure before making the purchase. My only negative is the bag does not free-stand, although I knew this from the pictures before my purchase. Not a big deal..

Overall I recommend for any business professional looking for something simpler for everyday jaunts to the office.

Hope this helps :)

David



Thank you for your feedback!

You already voted

Sorry, we failed to record your vote. Please try again

1 person found the following review helpful

Had this bag for five days. Pros: 1. Great des...

Had this bag for five days.

Pros:

1. Great design, really convenient to access items in pockets. No hunting around.

2. Strap is comfortable, doesn't get twisted, goes anyplace, small form factor, adjusts nicely around body even in cramped environments.

3. Stylish, could only possibly topped by a full leather bag (a possible sacrifice in utility)

Cons:

Minor item

1. Zips could be designed slightly more ergonomic. (though alot of zipping is inefficient)

About my use:

Ideal for for daily personal & business, international travel.

For a road warrior, traveling light is a super benefit.

My IPad, notepads & other itmes slide in/out easily & smoothly. Best light-duty messenger bag I've ever had. Highly recommended.



Thank you for your feedback!

You already voted

Sorry, we failed to record your vote. Please try again
Questions And Answers
Can't find your Answer?