What's in My Bag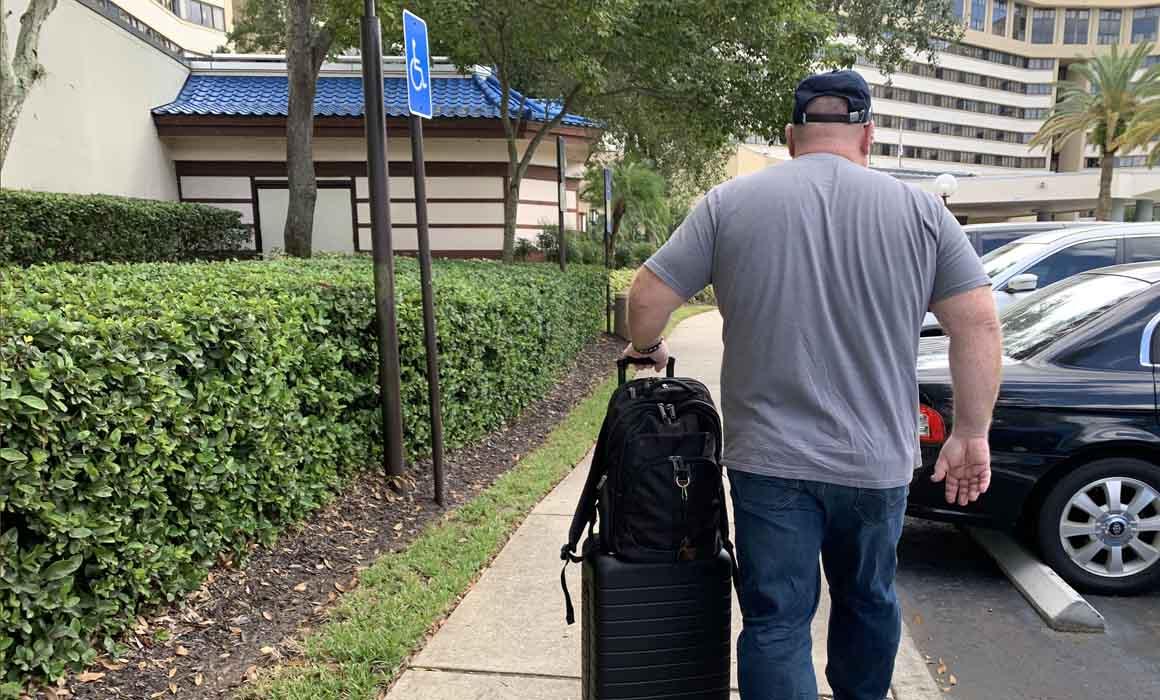 I'm a road warrior, 240+ nights on the road in 2018 and 122 nights so far in 2019. Being a road warrior one of my favorite movies is George Clooney's 2009 "Up in the Air". If you've never seen it the 30,000' view, pun intended is:
An idea from a young, new co-worker (Anna Kendrick) would put an end to the constant travel of corporate downsizer Ryan Bingham (George Clooney), so he takes her on a tour to demonstrate the importance of face-to-face meetings with those they must fire.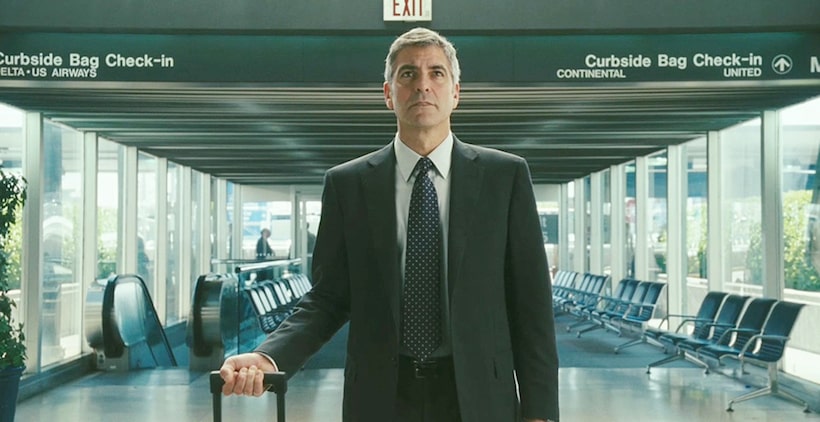 Clooney's character, Ryan Bingham, provides his new co-worker with travel hacks as they move from destination to destination, an education that no MBA program includes.
Bingham also dabbles as a motivation speaker. During the film, he delivers his What's In Your Backpack? speech, which opens with:
How much does your life weigh? Imagine for a second that you're carrying a backpack. I want you to feel the straps on your shoulders. Feel 'em? Now I want you to pack it with all the stuff that you have in your life. You start with the little things. The things on shelves and in drawers, the knick-knacks, the collectibles. Feel the weight as that adds up. Then you start adding larger stuff, clothes, table-top appliances, lamps, linens, your TV.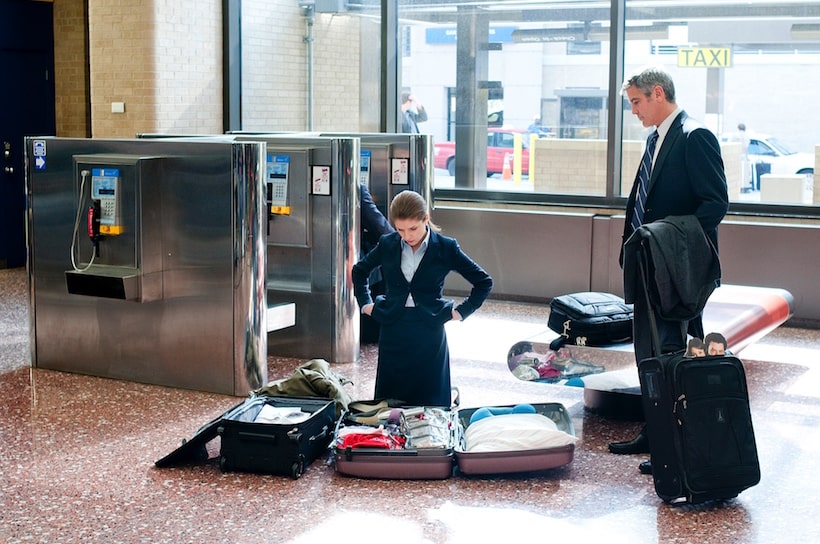 Kind of a parable for life. I grew up with a father that also traveled. Everywhere he went his constant companion was a Mad Man style Samsonite hardshell briefcase. Safe to say it easily weighed ten pounds before he put anything in it. Thankfully we've gotten away from hard plastic and metal and progressed into the world of durable lightweight nylon.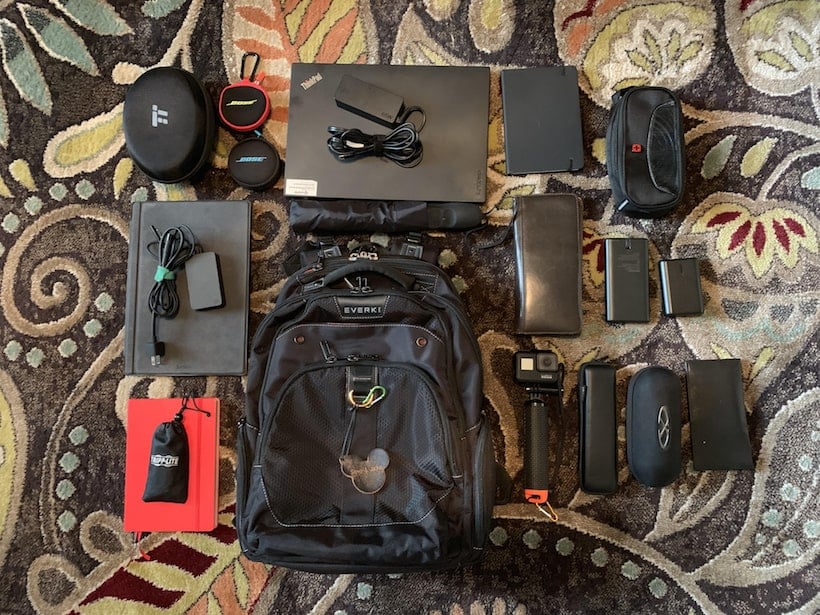 I'm a bit of a gear guy. My wife would argue the "bit of" part and label me a "gear guy", so I'll own it. Over the past twenty years of traveling, I've been through countless laptop bags. I've had bags with wheels, too hard to get under an airplane seat. Went with the messenger style until my shoulder started aching. Tried the minimalist bags only to discover I didn't have enough room for all my gear. For a short time, I used a bag that held my laptop as well as two days of clothing, and you guessed it I started taking too much stuff with me. A few years ago I settled in on backpacks as they offered the best form to function for my needs. Again, I ran the gamut of different styled backpacks, and I have a shelf in my closet as proof.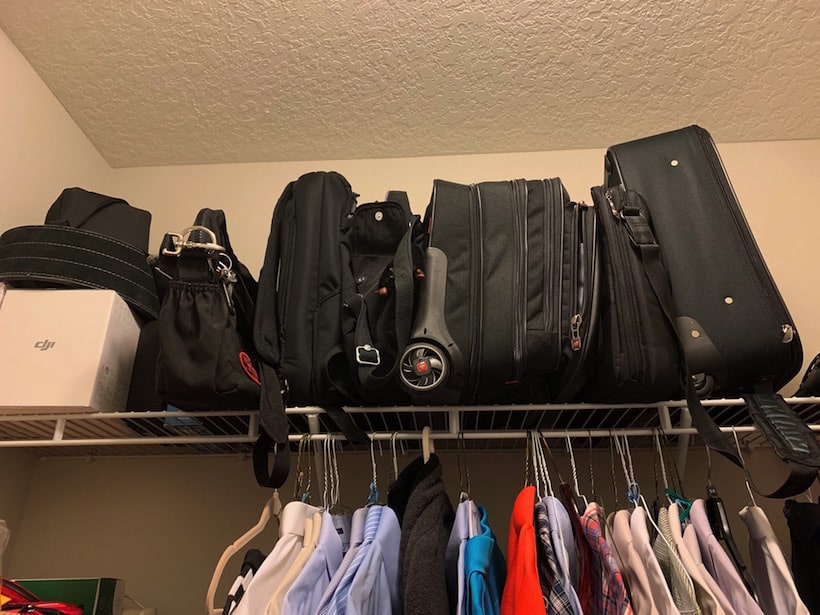 Recently I was introduced to EVERKI, and their backpack offerings. After looking at specifications as well as reviews I decided on the Atlas 17.3" Backpack. EVERKI takes great pride in their packing right down to their branded packing tape.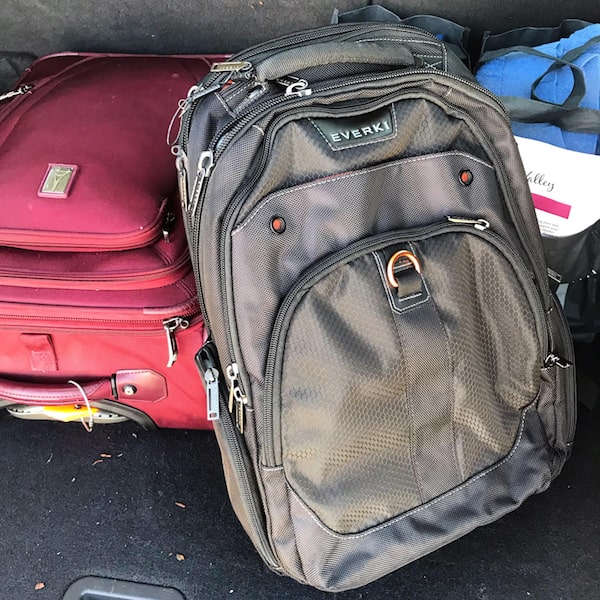 When it comes to travel I'm a bear with furniture, which means I'm rough on my gear. Broken zippers and split seams are routine, and after 3 months with my Atlas, it's never wavered. I use this bag every single day, even when not traveling it goes with me almost everywhere.
Of all the features this bag offers here's my top five:

1. The interior is orange. Most of everything I carry is black. Laptop, pen-case, umbrella, notebook and headphone case to name a few. In previous bags, all that stuff would get lost in the black interior.

2. Pass through for my luggage handle. I have returned other backpacks for lacking this necessary feature.

3. Adjustable elastic water bottle lanyard. I can't tell you how many water bottles I've had take flight as I swing a backpack onto my shoulders. This simple attention to detail makes all the difference.

4. Plenty of pockets, located up high. The biggest problem with backpacks is that everything settles to the bottom. This can put a lot of strain on your back and making it tough to slide it under an airplane seat.

5. Their quick access newspaper slot. This offers two benefits. The first one is that most of my flights home are early in the morning and allow me to store and then access the morning newspaper. The other benefit is that it gives me a place to store my wallet and cellphone when going through TSA.

 

Even if you don't spend the better part of your life traveling EVERKI's bags will support your daily commute to office or school. Do yourself a favor and check them out, you won't regret it.
Products featured in story
Read stories of other professionals
How To Clean Laptop Backpacks And Laptop Bags

Read more >

From Office to Overhead: There's an EVERKI Bag for Everyone

Read more >