From Office to Overhead: There's an EVERKI Bag for Everyone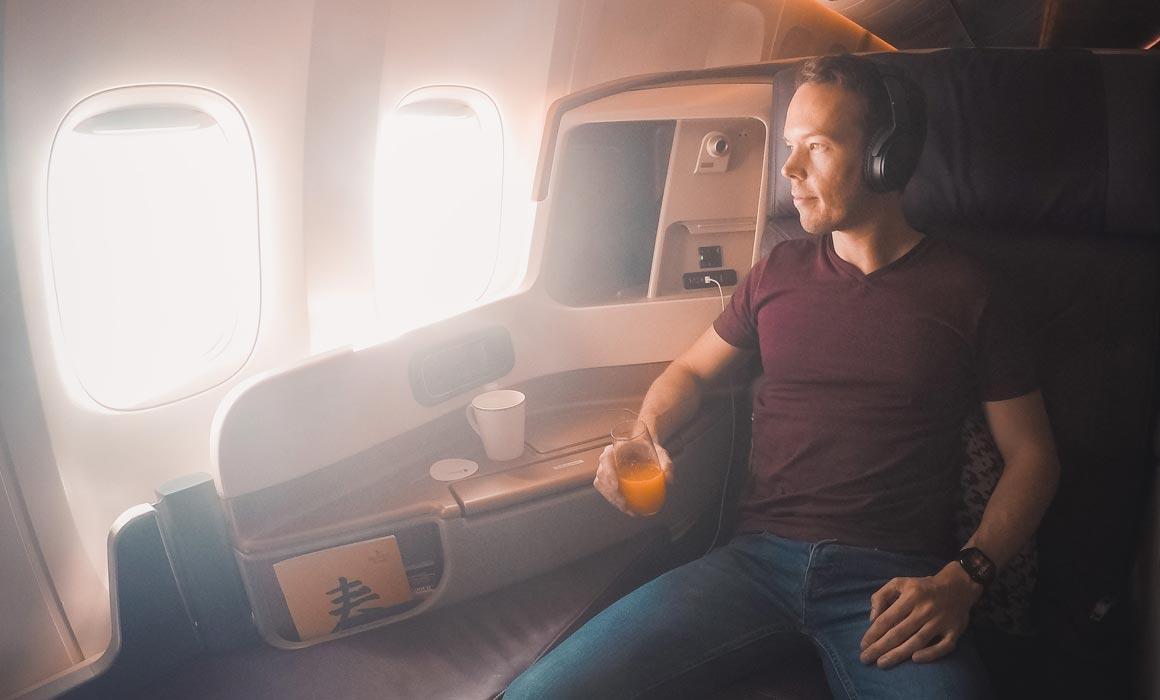 Greg is a businessman in the printing industry and spends more than 100 days away from his home in Sydney Australia each year to attend industry trade shows, conferences and other events around the world. Greg also writes for several travel industry blogs to help educate readers how to maximize their miles and points to fly up the front of the plane for less than the price of an economy class ticket.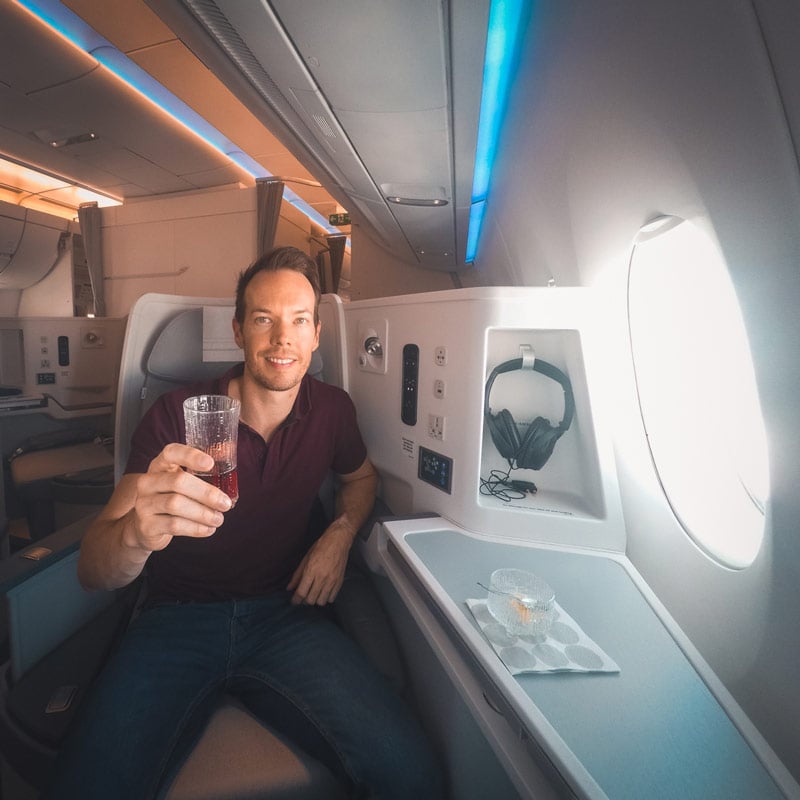 I am very fortunate to have the opportunity to travel frequently for work and the sharing of my travel experiences on Instagram lead to opportunities to write reviews on flights and hotels for several different online travel publications. Considerable effort goes into a flight or hotel review. As such, I take a lot of gear with me when I travel. Whilst I have a separate bag for my camera gear, I have a roller-bag to store the rest of my technology.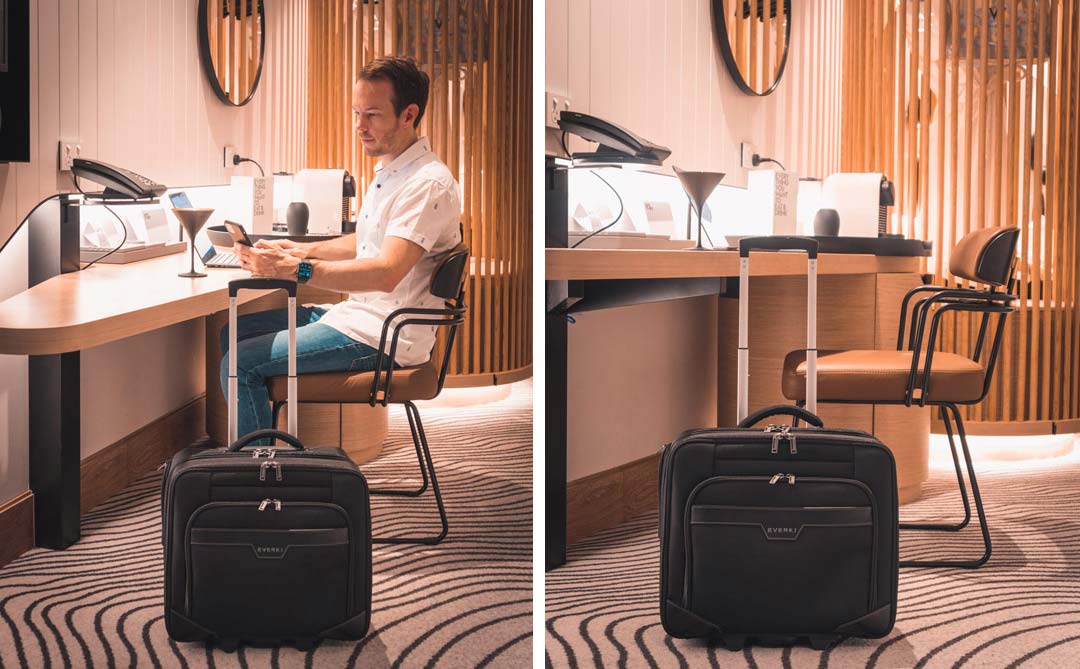 Travelling so frequently had taken its toll on my hand-luggage roller-bag with the handle falling apart and zips breaking. So, it was time for an upgrade. When deciding on a new bag, my priority was practicality and storage capabilities, so I decided on the EVERKI Journey Trolley. Which also looks great.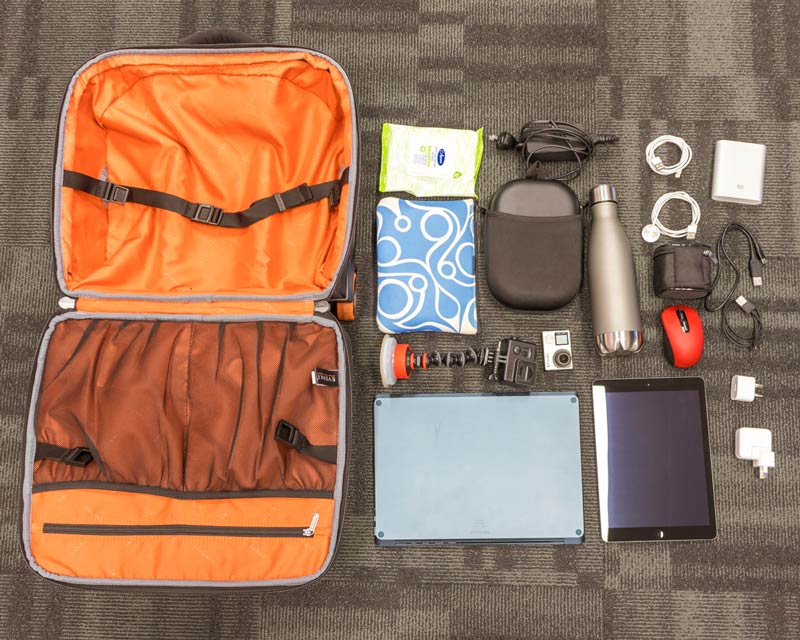 What I love about this bag is the weight, it is incredibly light. Once I transferred over my gear into the new bag, it felt the same weight full than my old bag feels when empty. With airlines around the world cracking down on hand luggage weight this is going to brilliant. The next thing that stands out, quite literally, is the bright orange internal lining which not only looks great in my eyes, but also makes it easier to find anything inside at a quick glance. My old bag had a black liner and whilst moving my gear over to the new EVERKI bag I actually found a black camera lens cap at the bottom of the front pocket that I had lost months ago!

The internal laptop and tablet holder are lined with felt so I know there is no chance of scratching the metal surface of my Microsoft Surface or Apple iPad.
The two internal mesh pockets feel like they were made especially for a set of noise cancelling headphones.
What also stood out to me whilst deciding on the Journey Trolley was the built-in bottle holder. Often when I'm walking the halls of an exhibition center during a trade show, I would have to hold a bottle of water in my hand as I didn't want to risk a spill in my bag with my laptop or the brochures I had collected.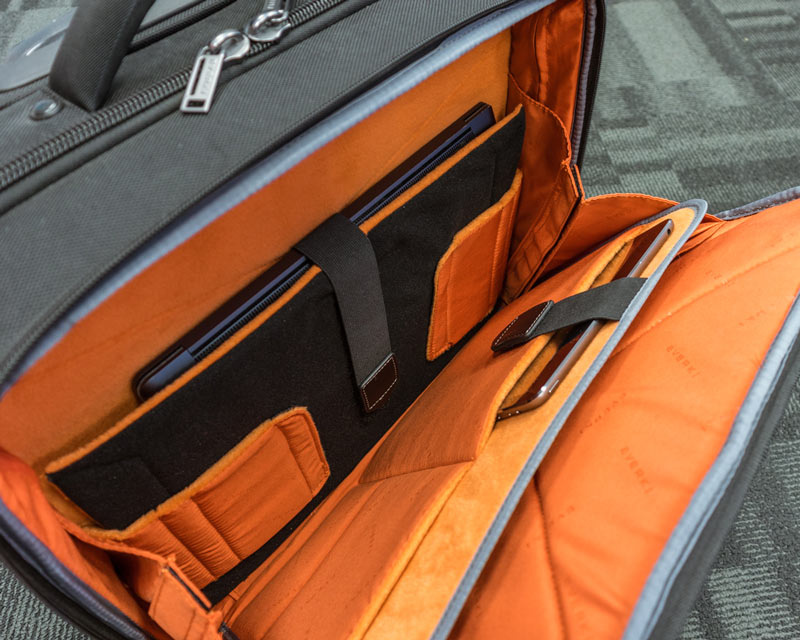 Some people joke around with me saying that I have "Tyrannosaurs arms" as they are not the longest (I'm the person who has to pull the steering wheel all the way out whenever getting into a new car). So, the only room for improvement for me personally is the height of the handle which is about 6cm shorter than my old bag.
For most conferences I attend, I don't need to drag around a large roller carry, so I also decided to get a Versa 16" laptop bag for something more compact.
Like the Journey Trolley, it has the signature EVERKI orange liner which makes everything super easy to find.
Plus, the tablet and laptop pouches are felt lined as well. Whilst the bag has a soft shell, I love knowing the corners of my laptop have extra protection in case I accidently place the bag down too hard.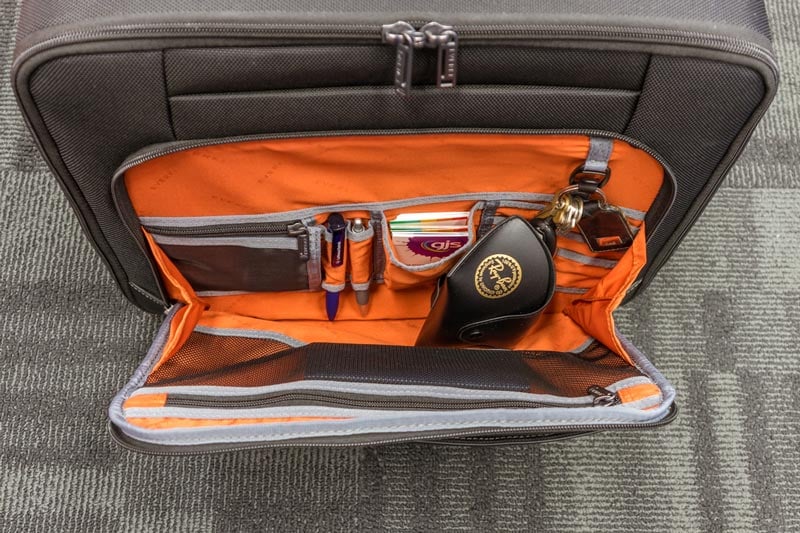 There's storage galore inside, once again it feels like there is a perfect size pocket for all of my power adapters and noise cancelling headphones.
A unique feature is the rear compartment which flips open 180 degrees which means the storage pockets are easy to access.
I've been using these bags for over two months now and whilst the world has changed around us and I'm unable to fly at the moment, the Versa laptop bag has become my everyday work bag.
I am fortunate my business has not been locked down in Australia and whilst most of my staff are now working remotely, I'm continuing to work from the office to oversee the staff working in the warehouse.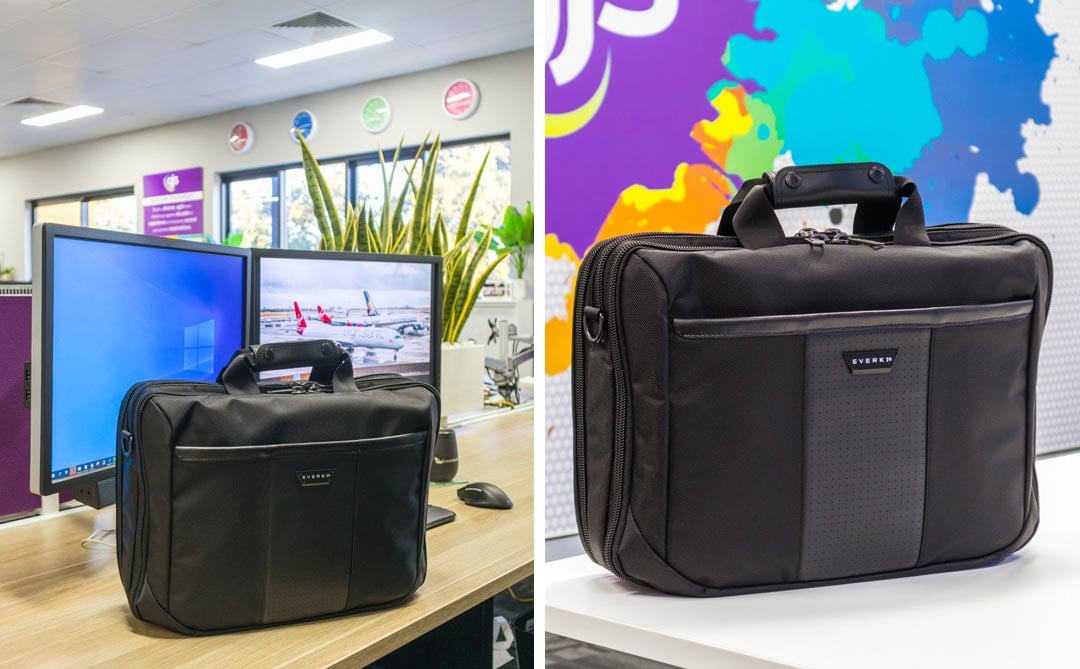 All my travel plans over the next six months have been cancelled because of the travel bans in place and as disappointing as it is, we each have our part to play in this global situation by following government instructions.
We also need to stay positive and adapt to the changed world. I'm using this time to focus on so many things I never had the time to before; new projects for my business, learning new skills online, editing more photos, writing more and catching up with friends via video that I haven't seen in ages. I believe the current situation has given us the precious gift of time and it's important that we don't waste it as we may never get it again.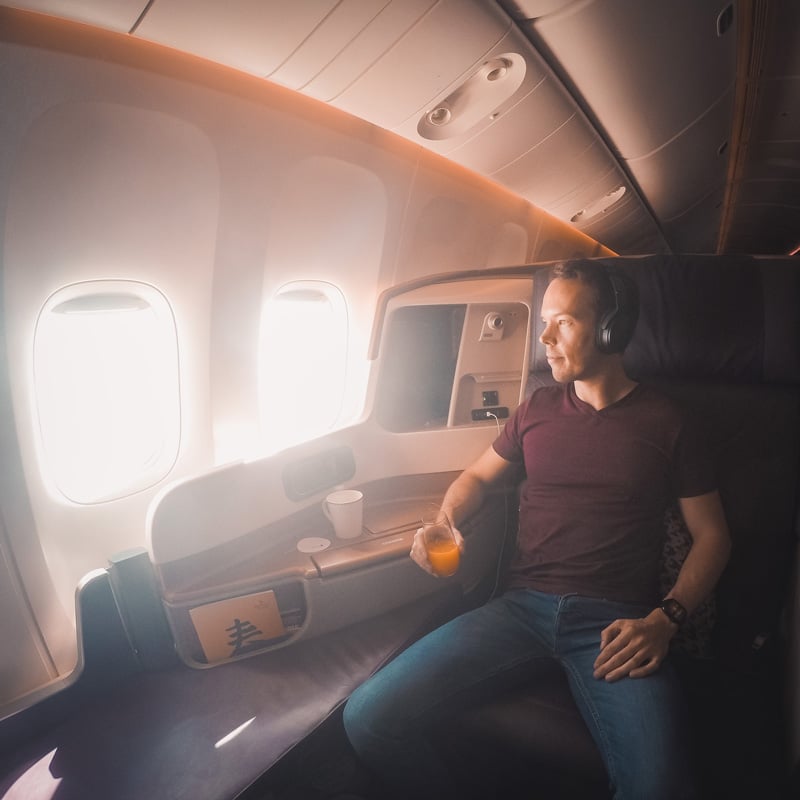 PRODUCT MENTIONED IN STORY
READ STORIES OF OTHER PROFESSIONALS
How To Clean Laptop Backpacks And Laptop Bags

Read more >

From Office to Overhead: There's an EVERKI Bag for Everyone

Read more >