ContemPRO
Roll Top Laptop-Rucksack, bis 15,6-Zoll – Navy
Der elegante und gleichzeitig legere Look des ContemPRO Roll Top Laptop-Rucksacks macht ihn zur ersten Wahl, um deinem Bürolook etwas Besonderes zu verleihen. Die extragroße Öffnung an der Oberseite des Rucksacks lässt dich größere oder sperrige Dinge leicht verstauen, während durch die rollbare Oberseite des Rucksacks alles ordentlich und professionell aussieht.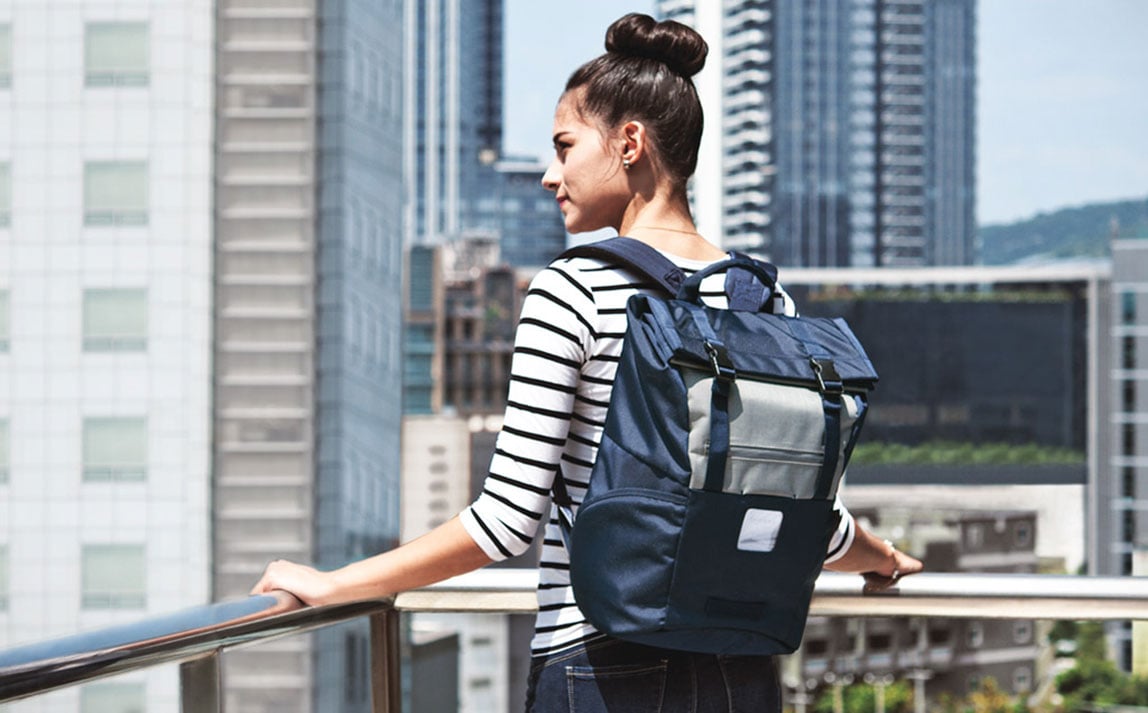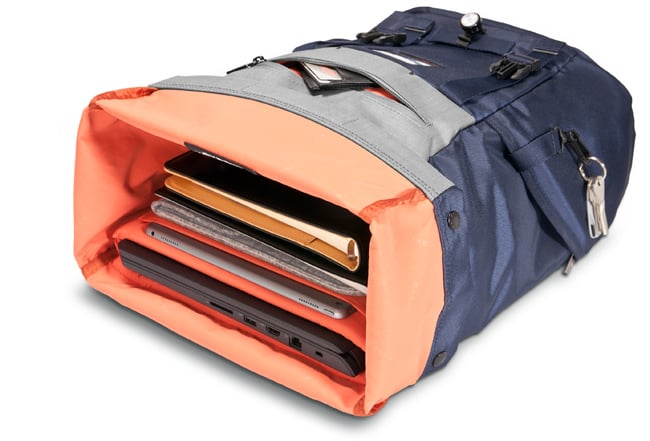 Der Roll Top Laptop-Rucksack
Der Roll Top Laptop-Rucksack von EVERKI ist ein stylisches Neudesign eines klassischen Lieblings mit professionellem Twist. Doch lasse dich nicht von seinem legeren Aussehen täuschen; dieser Rucksack ist mit seinen speziellen Stauräumen für Laptop und Tablet bereit für das Büro. Und wie alle EVERKI-Taschen haben wir diesen Rucksack so entworfen, dass du immer leichten Zugriff auf alles hast. Wie etwa durch die multifunktionalen Seitentaschen, die sicher unter anderem deine Wasserflasche halten oder durch das Fach für schnellen Zugriff auf dein Telefon und andere Dinge. Zudem gibt es diverse Steckplätze, Fächer und Aufbewahrungsbereiche, sodass alles immer gut organisiert und schnell zur Hand ist. Mache deinen Bürolook noch ein bisschen interessanter.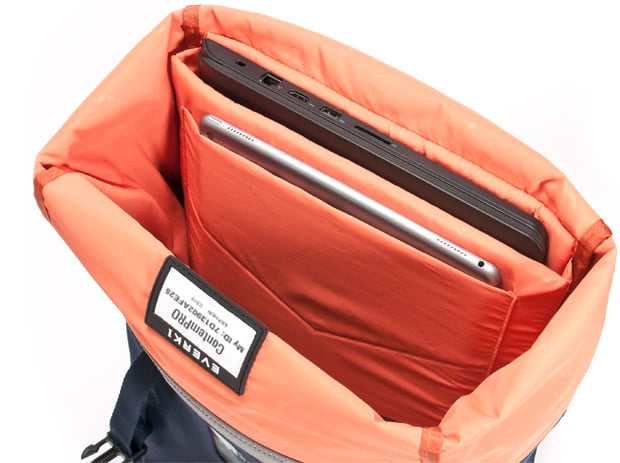 Extra Fächer für Laptop und Tablet
Bei der täglichen Fahrt ins Büro sind häufig Laptop und Tablet mit dabei. Der Roll Top Laptop-Rucksack wurde mit einem extra Fach für Laptop und Tablet entworfen, das einen Laptop von bis zu 15,6-Zoll und größere Tablets verstauen kann. Das Fach ist an Unter-, Vorder- und Rückseite gepolstert, um den Laptop vor Stößen und Kratzern zu schützen. – und auch das Tabletfach ist gepolstert, um Kratzer zu vermeiden. Im ContemPRO Roll Top Laptop-Rucksack verstaust du deine Elektronik sicher und mit einem guten Gefühl.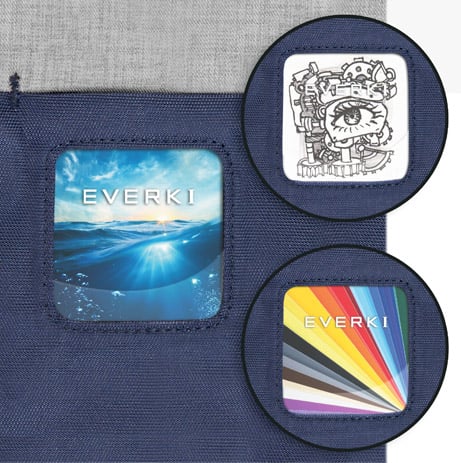 Personalisierbares Fenster
Du willst in allen Bereichen deines Lebens eine Möglichkeit zur Selbstentfaltung, selbst bei deiner Businesstasche. Die ContemPRO-Serie haben wir genau hierfür entwickelt. Wie jede Tasche der ContemPRO-Serie hat auch der Roll Top Laptop-Rucksack ein personalisierbares Fenster an der Vorderseite. Der Rucksack wird mit einem Bilderset geliefert, sodass du das Motiv auswählen kannst, das dir am besten gefällt. Oder du entwirfst dein eigenes Bild, welches ganz genau zu deinem persönlichen Stil passt. Das Fenster an der Vorderseite des Rucksacks hilft dir dabei, das zu tun, was du immer machst – aus der Masse hervorstechen.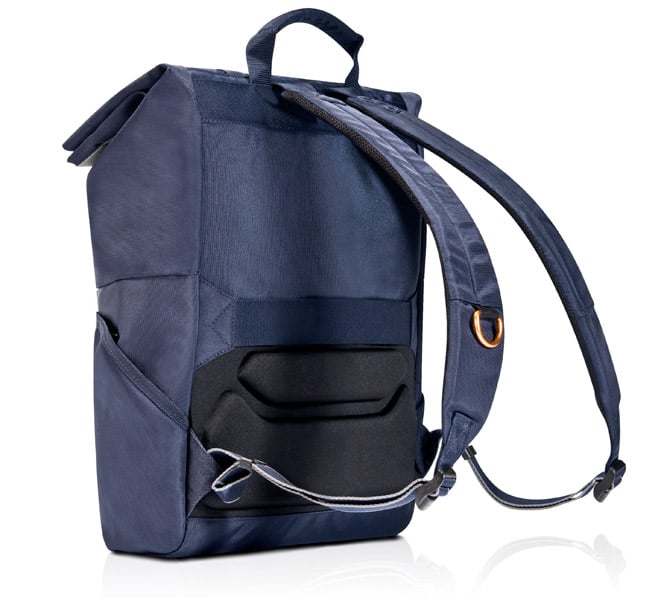 Komfortabler Transport
Beim Roll Top Laptop-Rucksack wurde wirklich an alles gedacht. Die große Öffnung an der Oberseite lässt dich auch größere und unhandlichere Gegenstände mitnehmen, als du es von einem traditionellen Rucksack gewohnt bist. Das geräumige Hauptfach ist groß genug für alles, was du für das Büro oder einen Wochenendtrip benötigst. Und da deine Schultern den Großteil des Gewichts tragen, haben wir den Roll Top Laptop-Rucksack mit gepolsterten und anpassungsfähigen Schultergurten ausgestattet, die sich an die Schultern des Trägers anpassen. Zudem gibt es eine speziell geformte Rückseite für erhöhten Komfort und verbesserte Luftzirkulation – sodass du deinen Rucksack auch dann noch bequem tragen kannst, wenn er komplett gefüllt ist.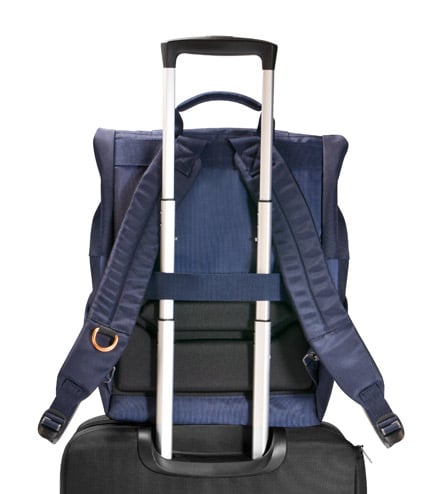 Trolley-Lasche
Wenn du mit viel Gepäck reist, ist die Lasche für Trolleygriffe auf der Rückseite des Roll Top Laptop-Rucksacks äußerst praktisch. Ziehe einfach den Rucksack über den Griff deines Trolleys und rolle dein Gepäck bequem über den Flughafen.
Gepolsterter Tragegriff
Manchmal ist es einfach nicht praktisch, seinen Rucksack auf dem Rücken zu tragen. Der Roll Top Laptop-Rucksack wurde genau deshalb mit einem gepolsterten Tragegriff entworfen. So wird es einfach und bequem, deinen Rucksack in einer Hand zu tragen.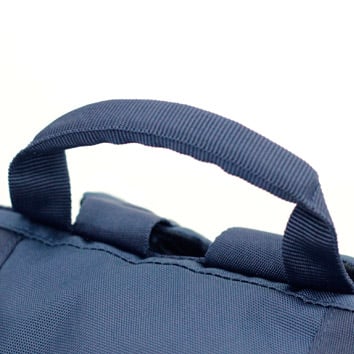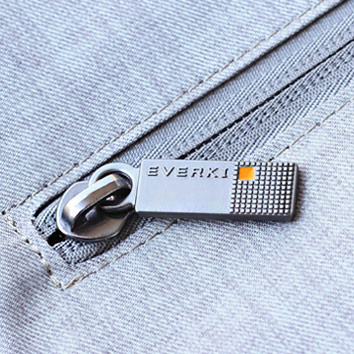 Langlebige Reißverschlüsse und Metallzieher
Ist dir jemals der Reißverschluss deiner Lieblingstasche kaputt gegangen? Uns schon. Deshalb nutzen wir für unsere Produkte langlebige Reißverschlüsse und Zieher aus Metall. Somit kann deine Lieblingstasche auch deine Lieblingstasche bleiben.
Kontrastreiches Innenfutter
Jedes Innenfutter von EVERKI ist in einem stylischen, kontrastreichen Orange gehalten, weil wir wissen wie frustrierend es sein kann, den Reißverschluss eines Fachs versehentlich offen zu lassen und wie schwer es ist, die eigenen Sachen vor einem schwarzen Hintergrund zu organisieren. Smart und stylisch.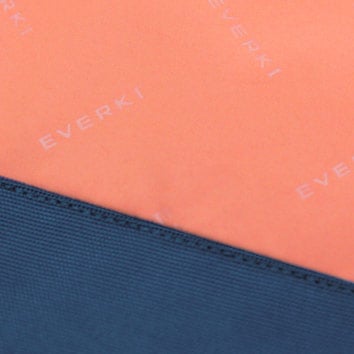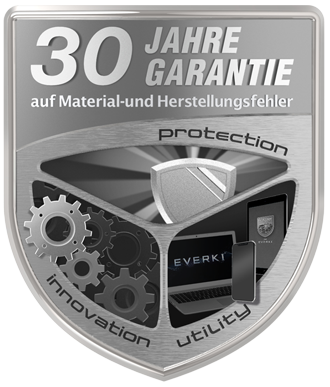 Sorgenfrei unterwegs
EVERKI stellt hochwertige Produkte her, denn die Zufriedenheit unserer Kunden ist unser höchstes Gut. Jedes Produkt wird mit unserer 30-jährigen Garantie auf Material- und Herstellungsfehler versehen. EVERKI - sorgenfrei unterwegs.
Dedicated pockets for 15.6-inch laptop and iPad/Pro/Kindle/tablet
Personalizable window
Spacious and well-organized
Multifunctional side pockets with water bottle loop
Comfortable and cooling molded back panel
Trolley handle pass-through
Weitere Informationen

| | |
| --- | --- |
| Model | EKP161N |
| EAN | |
| Sackgewicht | kgs |
Kundenbewertungen
Most Helpful Customer Reviews
As someone who totes on her back bags in differen...

As someone who totes on her back bags in different shapes and sizes for 25 years, day in and day out, I know how important is that the bag in question has to be able to stand almost anything bar nuclear explosion and still protect its contents.

I've gone on a hunt for a new one three weeks ago because my much loved, used and abused one finally filled in for a divorce, citing tearing apart at the seams, inner lining falling off thus not protecting the contents I've mercilessly upended into it to the extremes more often than not (heavy books - hey, I was a student at that time, alright? - sharp edges, bulky clothes, more books and fragile electronics that miraculously survived their little trips to wherever I needed them.). The old one served me faithfully for long ten years, so yeah, retirement wasn't an option, but inevitable certainty. It was almost a divine miracle that all the zips managed to remain in one piece still!

Thus began two long weeks of searching the shops, both online and offline ones, and I don't know who was more frustrated - the clerks because they had to deal with my (unreasonable?) demands or I, who was at times mentally weeping at the state of the so-called bags worth of their - at times - exorbitant - prices. They always lacked something. Sometimes it was a safe pocket. Sometimes they were not water-proof. Sometimes it was that the side where a person's back touches the bag, was not reinforced. And to my horror, no reinforced bottoms! Or they had useful bits and bobs I would love to have, but they were attached to the whole which wasn't, even if I lowered my demands, acceptable to me.

My attention was at first grabbed by another bag of yours - Everki Titan. I have to admit, my jaw just about dropped when I saw that behemoth, and when I saw just what that bag offered to the user, it was set as a measure stick for all the bags. So no wonder that many, many bags after it failed any comparations henceforth!

However, the only beef I had with Titan was, that it was HUGE, and my height is only 5.4 feet. And seeing your promotional videos - thank you for including height of the models, very helpful, by the way- was that I. Was. A. Dwarf. Well. At least comparing to that Titan bag. Yeah, apt name. Very apt.

Let's flash-forward to the Day B - so, Day of Buying. At first, the ContemPRO wasn't in my sight - I was used to the zipped models, so I looked at the zipped models. End of the story. But the zipped models had one big fail, and that was they needed - not necessarily so, but still - a rain cover. (I am a bit sad you don't include it with all the bags, really.). But then, something clicked, and I saw it in a new light. It was already waterproof, the design was a little bit unusual and yes, I would have to get used to a totally new layout (where the heck are my pens now!?), but why not?

I admit I was more than a bit nervous (didn't help that delivery took its sweet time because of Mr. Easter Bunny), especially because I had no chance to test is live. It was a Hail Mary at its finest, no test drive/wear before taking it home, nothing. Yesterday, I've been in a sports shop and I saw a bag that completed almost all the requirements for a little less than half of the price tag of CONTEMPro bag. But I know the quality has its own perks, so I was confident in my buy.

Today, the day I've finally got the bag home. And all I can say, love. Love at the first sight, touch, and my back definitely sang me praises when I transferred all the bits and bobs out of my recently divorced bag to my new Everki one. (For that matter, the divorced bag sang me praises, too. If only because I've relieved it of it's constant burden.... oh, for, like, forever.). I was afraid that the bag would look or feel bulky on my back, but it sat here, light and easy as you please.

The bag has everything I wished for in a bag that will be with me from here on, day in and day out, for the longest possible time (Or at least until this one too, serves me divorce papers. But hopefully not for a long, long long time.).

Yes, the price was higher than I expected to shell out for a new bag, but considering that you always deliver quality products, tailored to the needs of a regular everyday bag-toter (like me!), it's perfect, and I promise to like it, love it and hoard it away from my brother who will undoubtedly want it for his own.

(He will just have to get over it and buy his own. This one is mine!)

If I ever want another bag for my needs, I now know where to look.

Thank you. Really.



Thank you for your feedback!

You already voted

Sorry, we failed to record your vote. Please try again

I bought this backpack when I received a new lapto...

I bought this backpack when I received a new laptop from work. I've been living with it for about 2 weeks on my commute and really like it.

I wasn't sure I'd like the roll-top style but it works well for me and there is plenty of storage. It's very comfortable even when fully loaded.

It seems very well constructed, very happy with the purchase.

Thank you for your feedback!

You already voted

Sorry, we failed to record your vote. Please try again
Fragen und Antworten
Haben Sie keine Antwort auf Ihre Frage gefunden?